Joan Miró: Life Story
The work of Joan Miró is immediately identifiable by his unique style, bright colours and signature shapes. At the forefront of Spanish modern art and internationally acclaimed, let's delve into the life of this artistic genius...
Joan Miró was born in Barcelona in 1893 where his creative flair was nurtured throughout his childhood. Aged 14, Miró entered in the School of Industrial and Fine Arts and then went on to study at Francesc Galí's School of Art between 1910 and 1915. It was here that he became friends with many other budding artists who would become good friends and useful contacts throughout his life. He also took life drawing classes at the Cercle Artístic de Santa Lluc during his last two years at Gali's school. After getting his own studio, Miró worked hard for three years before mounting his first solo exhibition in 1918 at the Galeries Dalmau in Barcelona. .
In 1920 Joan Miró followed the well trodden artist trail to Paris where he would stay for almost a decade. It didn't take long for him to meet the greats of his time including Cubist Pablo Picasso and Surrealist André Breton. Moving in all the right circles, Miró began to gain respect and in addition to his own exhibitions he was commissioned to design the set for the Russian Ballet's interpretation of 'Romeo and Juliet' and sold his painting entitled 'The Farm' to none other than Ernest Hemingway.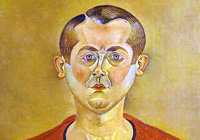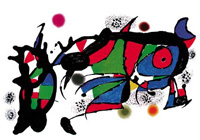 Miró married Pilar Juncosa in 1929 and soon afterwards the couple moved back to Spain where their daughter, María Dolors was born the following year. It was at this time that Miró produced his 'farewell to painting' - a series of experimental pieces - before moving on to other forms of art. During the six years that followed Miró got into collage, sculpture (particularly ceramic) and lithographs. He also designed another set, this time for 'Jeux d'enfants' ballet and held his first US exhibition in New York's Pierre Matisse Gallery.
However, when the Spanish Civil War began in 1936 Miró was quick to head back to Paris with his family in tow. The next four years saw more experimentation with scultpture and etchings. Between 1939 and 1940 the family moved to Normandy until war struck again and the area was bombed by the Germans, forcing them to move back to Spain indefinitely - this time they settled in Mallorca.
Joan Miró spent the rest of his life experimenting with different styles. Sculpture and ceramics continued to interest him but in 1945 he returned to painting for the first time in years. The 1950's saw him move into bronze sculpture, murals and street art.
By the end of his life, Joan Miró was a highly respected member of the international art world. In 1968 he was awarded a Doctorate from Harvard University and in 1975 the Fundació Joan Miró was opened in Barcelona. Miró donated many of his works to the museum and today it remains the best place to admire his art. However, you can also get a good dose in Madrid's Museo Nacional Centro de Arte Reina Sofia.
Joan Miró died in Palma de Mallorca in 1983, aged 90.
Joan Miró: Artistic Styles and Influences
Whilst many people associate Miró with the Surrealist movement, in actual fact the artist spent so much of his life chopping and changing that it is practically impossible to box him into one style of artistic production.
His own style, where people are represented by balancing shapes and representative lines began to take shape early on, however his use of colour and theme tended to alter depending on his mood, which was deeply affected by the turbulent political events which he lived through.
Miró's first exhibition which he held aged 25 is a perfect example of his eclectic style. He displayed a mixture of Cubism (which would later be further inspired in Paris by Picasso), fauvist influence pieces which suggested influences from André Derrain and Henri Matisse - leaders of this shortlived artistic fashion to paint boldly, colourfully and somewhat simply. However, at this early stage in his life, Miró also experimented with more classical styles and themes, like those found in Roman frescoes.
During Joan Miró's first stint in Paris during the 1920's he was heavily influenced by the up and coming surrealist movement that was so thriving there. Between 1924 and 1928 he produced over one hundred of his so-called 'Dream Paintings'. These stylised works are not meant to represent his own dreams, but instead they focus on external objects or people which he makes no attempt to place but which appear to float in unidentifiable spaces.
Just before and during the Spanish Civil War, Miró entered into what has come to be known as his 'Wild Period.' During this time he produced some of his most disturbing, pessimistic and angered paintings.
As Miró moved into even more experimental territories he took surrealism to another level with his enormous sculptures and murals. Making art accesible to all and brightening up the buildings and pávements of Barcelona - like that in the Pla l'Ós on Barcelona's Las Ramblas - Miró's work was no longer just confined to galleries.
Miró's representation of human forms in curvy moon shapes, circles and lines had become fairly stellar by the end of his life. His use of bright, uninhibited colour was also his trademark. But what did continue to change were the mediums through which he expressed himself artistically - from ceramic murals and colourful sculptures to traditional canvasses and detailed engravings. Joan Miró spent his life experimenting with forms of art and expression, producing a plethora of exquisite pieces which the world continues to enjoy today.
Joan Miró: Famous Works
Chapel of Saint Joan d'Horta (1917: Fundació Miró, Barcelona)
Hombre con Pipa (1925: Museo Nacional Centro de Arte Reina Sofia, Madrid)
Head of a Catalan Peasant (1925: Tate Modern, London)
Caracol, Mujer, Flor, Estrella (1934: Museo Nacional Centro de Arte Reina Sofia, Madrid)
Painting (The White Glove) (1925: Fundació Miró, Barcelona)
The Music Hall Usher (1925: Fundació Miró, Barcelona)
Painting (1927: Tate Modern, London)
Man and Woman in front of a Pile of Excrement (1935: Fundació Miró, Barcelona)
Retrato II (1938: Museo Nacional Centro de Arte Reina Sofia, Madrid)
Self Portrait (1937-8/1960: Fundació Miró, Barcelona)
Sun Bird (1946-49: Fundació Miró, Barcelona)
Moon Bird (1946-49: Fundació Miró, Barcelona)
Woman and Bird in Moonlight (1949: Tate Modern, London)
The Foundation Tapestry (1979: Fundació Miró, Barcelona)
Woman and Bird (1982: Parc Joan Miró, Barcelona)