El Greco: Life Story
El Greco or 'The Greek' is undoubtedly one of the first names to be mentioned when discussing great Spanish artwork, but it also crops up when the Greeks discuss their own artistic heritage. This makes the life and works of El Greco somewhat complicated and his place in Spanish art history less than straightforward. Nonetheless, he appears time and again as a pivotal, innovative and important figure and no trip to Spain would be complete without learning about him...
So who was this mysterious figure that sculpted and painted his way round the altars of Toledo?
El Greco was born in Crete in 1541 and whilst he spent very little time there, his creative talents were nurtured when he studied at the Cretan School of post-Byzantine art. Whilst El Greco is associated with Spanish art, the early training he received in Greece filtered into his works throughout his life and he was consistent in signing his work by his real name in Greek characters, 'Doménicos Theotokópoulos. Despite his obvious ties to his homeland, we know hardly anything about his early life and few of his works from this time have survived the test of time.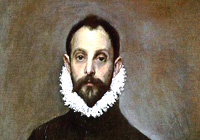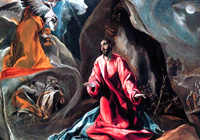 On coming of age, the young artist swiftly headed to Italy to learn from the great masters of his time. Venice was the scene of his initial artistic training and set the precedent for his future works. He was inspired by Titian and Tintoretto at the Venetian school of the Italian Renaissance before moving to Rome and marvelling at Michelangelo.
It was not until his thirties that he finally made it to Spain, which is where he lived out the rest of his days until his death in 1614. By this time El Greco had developed his own style, taking from his main influences and blending them with his own attitudes and religious vision to give his works their distinctive style.
He spent many years attempting to paint for the Spanish Royal court, one of the most influential powers in the art world at the time. However, his work was not appreciated by King Phillip II and he never fulfilled his dream of painting El Escorial, the royal's new palace-cum-monastery. However, he did receive many commissions to design, sculpt, build and paint the altarpieces of many important churches in and around Toledo, the church being the other most important player in the sixteenth century art scene. This required him to employ all of his skills to create some of his most incredible compositions. Whilst many of his works have ended up in museums all over the world, some of his most dramatic altarpieces can still be admired today in Toledo. These include the famous Burial of Count Orgaz (1586) at the Iglesia de Santo Tomé in which he painted in himself and his son, Jorge Theotocopouli, who was his biggest fan at the time.
If you are dying to see some of El Greco's original pieces then Madrid is the place to be. As well as taking the short train ride to Toledo, you can visit the Museo de Prado where some of his most impressive pieces are housed.
El Greco: Artistic Style and Influences
El Greco was renowned for being an exquisite painter, sculptor and architect and he dedicated his life to focusing on religious subjects; however, he was also a great portraitist.
El Greco was heavily impacted by the styles of Italian masters Titian, Tintoretto and later, Michelangelo. This was reflected in his earlier works in which his concept of space and colour displayed clear influences.
His arrival in Spain signalled the start of a more individual style and his religious passion, interest in the unworldly and employment of darker colours fused with rich reds came into their own. El Greco's percepetion of the human form is what remains today one of the most defining characteristics of his work. People are slender and elongated and proportions are distorted.
His depiction of buildings in both paintings and sculpture display a strong relation to his studies in Roman architecture.
Towards the end of his life, El Greco's subjects became more unusual and he diverged from his more traditional scenes set somewhere between heaven and earth to depicting entirely mythological scenes. The most notable is the dark and melancholic Laocoön (1610). As well as taking us another step from reality, the painting harks back to El Greco's motherland as it depicts a scene from a Greek myth - the only thing he ever painted from pagan mythology.
El Greco: Famous Works
The Holy Trinity (1577: Museo del Prado, Madrid)
The Adoration of the Name of Jesus (Late 1570's: National Gallery, London)
El Espolio (1579: Catedral de Toledo)

The Burial of Count Orgaz (1586: Iglesia de Santo Tomé, Toledo)

Laocoön (1610: National Gallery of Washington)
The Adoration of the Shepherds (1614: Museo del Prado, Madrid)