35K+ students each year in Spain and Latin America
Enforex is an investment in your future, and you are worth it!
Imagine this: You're exploring a new city in a foreign country, speaking Spanish with new friends. You stop for a drink, to try new food, to ponder what that artsy graffiti says on that wall over there and pull your camera out for 360º views over the city or out across the sparkling blue sea. This is the Enforex life!
Fun facts about life in Spain
120K lbs. of tomatoes are used in La Tomatina
9 p.m. is dinner time
1:129 is the ratio of 1 bar to every 129 people in the country!
12,198 ft. is the elevation of the tallest peak (the volcano Mt. Teide)
2010 was the last year La Furia Roja (Spain's national soccer team) won the World Cup
€2.2 billion is the payout for El Gordo lottery (the world's largest!)
Immersive learning
Enforex doesn't believe in confining learning to the four walls of a classroom. We invite you to join us on organized excursions full of fun activities where your learning will continue without end. Here are just a few examples of what we offer (all subject to availability).
Andalusian or Catalan cooking classes
Salsa or flamenco dance lessons
City tours
Barbecues
Trip to the mountains and nearby natural sites such as Montserrat
Visit top museums such as the Dalí Museum outside Barcelona, the Prado in Madrid, and City of Arts and Sciences in Valencia
Visit the Costa Brava and coastal towns like Sitges
Visit traditional villages (like Ronda and Ávila) and nearby cities
Visit emblematic bullrings
Catamaran tours
Flamenco shows
Wine tasting tours
Student Comments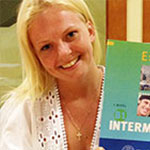 ArinaI had a great first day! At first I was pretty nervous because I didn't know anyone around me. It didn't take long to meet and get to know my classmates especially two girls: one from France and another from Russia.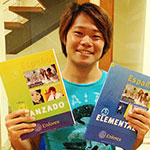 Yoshida Keisuke The first day I arrived at the school I couldn't speak or understand Spanish, so you can imagine how nervous I was. Even though the class was difficult for me, the teacher was very nice and that made me more comfortable.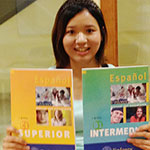 Chihiro MatsumotoI was nervous the first day I got to school and had to take the level test. I had just arrived in Spain too, so I wasn't familiar with anything about Valencia or the school.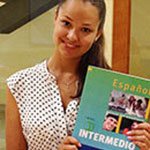 Elizaveta SlasarevaI thought my first day was going to be very difficult since I had to do a level test and find myself surrounded by lots of new people.
Learn more and register for a course with no commitment
20 types of Spanish programs for all ages, with accommodation & excellent services.
---
Recommended courses

Intensive & Super Intensive
The Intensive & Super Intensive Courses are the classic Enforex programs.

Business Spanish Course/ Chamber of Commerce Exam
Business-related topic Spanish courses wih option to take the exam of the Chamber of Commerce of Madrid.