Salvador Dalí: Life Story
Rebellious, eccentric, surrealist, showstealer, painter, writer, director, sculptor, designer... these are just a handful of the words that could be used to described the life of Salvador Dalí. He was certainly a man of many talents and many faces and undoubtedly one of the most important contributors to the Surrealist movement of the twentieth century.
Dalí was born in Figueras, Catalunya, in 1904 where he stayed until he was 17. Having always had a fiery temper and a tendency to pull in the other direction, Salvador Dalí repeatedly found himself in trouble with the academic institutions which tried to put rules on him and his artistic expression. In 1921 he headed to Madrid to study in the Escuela de Bellas Artes, on agreement with his father that he would train to become an art teacher. However, within three years he had been expelled for conflicts with his fellow students and he ended his academic career there and then. Despite his fiery and somewhat unpredictable temperament, Dalí was destined to succeed in the artworld with or without qualifications from prestigious institutions - his creative talents shone through and could not be denied by any account.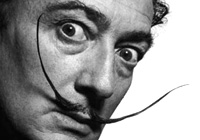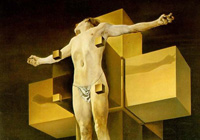 The 1930's saw Dali's biggest boom in terms of production. In addition to getting married, he headed to Paris and became heavily involved in the Surrealist movement. As well as painting and scultpture Dalí began to work on films too, all of which centred around a totally surreal and dreamlike ideology. By the end of the decade he had been expelled from the surrealist movement for insulting the movement's founder, André Breton.
Salvador Dalí spent between 1939 and 1948 in the United States and his art began to depict more decipherable themes, from religion to sexuality.
Salvador Dalí: Artistic Styles and Influences
Dalí was principally inspired by the intangible, unconscious world that we do not participate in, but that we dream. During the 1930's he went to Paris and became a fully fledged contributor to the Surrealist Movement, led by André Breton. Regardless of the fact that he was ousted only nine years later, it was surrealism that defined him and his work for the main part of his life.
As well as his contemporary Surrealist painters like Bretón and Miró, Dalí also found inspiration in the works of film directors like Luis Buñuel, with whom he worked with on his first film in 1929, 'Un Chien Andalou'. This short, black and white film contains only music and no words as a soundtrack to some of the most disturbing and inexplicable images seen on film. A man dragging bloody donkeys attached to a piano across a room and the splicing of an eyeball are just some of the treats that lie in store for the viewer. However, whilst the film appears to be nonsensical, in captures perfectly the nightmarish uncontrollability of dreams. Two years later he collaborated with Buñuel again on the film 'L'Age D'or'.
Salvador Dalí also spent some time travelling in Italy, during which he was captivated by the classical and renaissance style pieces left behind by old masters. After being disallowed to continue as a 'Surrealist', having had an aggressive disagreement with the movements' founder, Dalí began to paint his own versions of classic sacred scenes and more traditional art subjects. During his time in America he also began to write (rather egoistically) several autobiographies which he titled 'The Secret Life of Salvador Dalí' (1942) and 'Diary of a Genius' (1964).
You can see some great collections of Dalí's masterpieces if you are in Spain. The Fundación Gala-Salvador Dalí in Figueres and the Museo Nacional Centro de Arte Reina Sofia in Madrid.
Salvador Dalí: Famous Works
Autoretrato Cubista (1923: Museo Nacional Centro Reina Sofia, Madrid)
Retrato de Luis Buñuel (1924: Museo Nacional Centro Reina Sofia, Madrid)
El Gran Masturbador (1929: Museo Nacional Centro Reina Sofia, Madrid)
Un Chien Andalou (1929, short film with Luis Buñuel)
El Hombre Invisible (1930: Museo Nacional Centro Reina Sofia, Madrid)
L'Age D'ór (1931: film with Luis Buñuel)
La persistencia de la Memoria (1931: Museum of Modern Art, New York)
Lobster Telephone (1936: Tate Modern, London)
Autumnal Cannibalism (1936: Tate Modern, London)
Enigma sin Fin (1938, Museo Nacional Centro Reina Sofia, Madrid)
The Secret Life of Salvador Dalí (Autobiography - First Published in 1942)
Galarina (1944: Fundación Gala-Salvador Dalí, Figueres)
La Madonna de Port Lligat (1950: Grupo Minami, Tokyo)
Galatea de las Esferas (1952: Fundación Gala-Salvador Dalí, Figueres)
The Last Supper (1955: National Gallery, Washington)
Diary of a Genius (Autobiography - First Published in 1964)