Diego Velázquez: Life Story
Hear the name 'Velázquez' and you know the conversation must centre around the finest figures in the Spanish art world. Since his death four centuries ago, Diego Velázquez has not faded from our memories and his work is visited daily in the world's most respected museums, as well as gracing the front of many a greeting card and poster. So what was the story behind this powerful artistic figure who lives on today as one of the greats of the Spanish Baroque?
Diego Velázquez was born in 1599 to a noble Sevillian family. At the tender age of 11 he began work as an apprentice to famous Mannerist painter, Pacheco, who could be credited for Velázquez's early development of his artistic skills. Once he finished his apprenticeship in 1615 he began to produce interesting pieces of naturalist work in which he focussed on portrait, still lifes and religious works. Three years later he married Pacheco's daughter, Juana de Pacheco and in the three years that followed they had two daughters, however, only one survived into adulthood.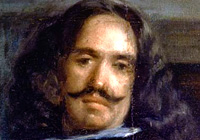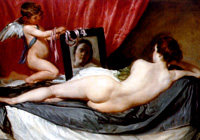 In 1623, aged 24 Diego Velázquez moved to Madrid with an aim to further his artistic career and it wasn't long before he found great success. His first royal commission was a portrait of the young king Philip IV of Spain in 1629 which was so well received that he was immediately appointed as Court Painter. Velázquez continued to 'wow' the royals with many beautifully finished portraits as well as moving into an interesting realm of mythological paintings that fuse together realism and fantasy, blurring the boundaries and transporting the viewer to his artistic world.
Diego Velázquez took a couple of years to travel Italy and study Italian art during which time his work became more heavily influenced by great masters like Tintoretto and Titian. His return to Madrid signalled his most dramatic period and he produced some of his most celebrated works. In addition to his work taking pride of place in the king's throne room, he added more quirky touches to his paintings, became more daring in breaking with artistic tradition. Velázquez continued to work as court painter until his death in 1660.
If you want to have a good look at some of Velázquez's most treasured paintings then make sure you don't miss the Museo de Prado in Madrid, where the world's most extensive collection of Velázquez artwork is found.
Diego Velázquez: Artistic Style and Influences
Velázquez's work is widely considered as the most perfect representation of the Spanish Baroque. Where the emphasis shifted from a renaissance traits of bright light and mathematical perspective, Baroque favours the essence of humanity, showing things how they should be seen.
The development of Chiaroscuro meant that shadow became equally as important as light in which things can be hidden or highlighted, contrasted or exposed. This effect was employed frequently by Velázquez.
His early training as Pacheco's apprentice have him a basis in italian realism which became a stock feature of his art. As his artistic style came into its own a bit more he veered towards a naturalist take on things, for example in The Epiphany (1619) he recreates this famous scene with members of his own family as opposed to a traditional Mary and Jesus. This serves to universalise the scene, making it relevant to every family.
During Velázquez's travels around Italy he was heavily influenced by Venice's great masters and this became particularly apparent in his use of colour. The famous Las Meninas (1657) and the Surrender of Breda (1635) are good examples of this. The latter painting found its way into King Philip IV's throne room where his wartime vistories were celebrated. The painting is so moving as Velázquez has focussed on human feeling as opposed to the bloodshed and agression of war. Spanish commander Spinola's face is filled with compassion as the Netherlands fort is finally given up after a fourm month siege.
Velázquez included himself in many of his paintings, especially the later ones. This highlights the artist's inseparable link to his work, as well as hinting that Velázquez saw himself as a rather elevated figure, as opposed to a humble painter.
His paintings insisted upon the real workings of the royal court, as opposed to just the showy and somewhat stiff formalities of traditional courtly portraiture. His choices to paint the court jesters and dwarves furthered his studies of the human form. In allowing someone normally considered as a joker to be considered as a serious art form, Velázquez hit upon something real. Dwarf sitting on the floor (1645: Museo de Prado, Madrid) is a good example of how Velázquez proved that everyone is worthy of being painted.
Using art to both unite and detach, we cannot deny the power that lies behind his work.
Diego Velázquez: Famous Works
The Immaculate Conception (1618: National Gallery, London)
The Epiphany (1619: Museo de Prado, Madrid)
The Triumph of Bacchus (1629: Museo del Prado, Madrid)
The Crucified Christ (1632: Museo del Prado, Madrid)
The Infant Prince Baltasar Carlos Riding a Horse (1634: Museo de Prado, Madrid)
The Surrender of Breda (1635: Museo de Prado, Madrid)
Dwarf sitting on the floor (1645: Museo de Prado, Madrid)