Pablo Picasso: Life Story
A name recognised the world over, Pablo Picasso is associated with many different areas and movements of the modern art world. Rather than reflecting the trends of the time, Picasso's art moved in waves governed heavily by his own personal situation and mood. But how much do we actually know about what went on in the life of this artistic genius?
Picasso was born in 1881 in Malaga and was in fact known by his father's surname of Blasco for the first twenty years of his life. Aged 10 he moved to La Coruña with his family, and they relocated to Barcelona in 1893. He wowed everyone with his creative 'Science and Charity' four years later and the piece won national acclaim at Madrid's Fine Arts Exhibition, as well as in Malaga's Provincial Exhibition. This led to a very short-lived stint studying at the Academy of Fine Arts in Madrid, however, Picasso didn't take to formal and academic artistic expression and was back in Barcelona by 1899.
Between 1900 and 1904 Picasso entered in to his 'Blue Period' in which melancholy blue tones characterised his work. This time in his life was kicked off to a glum start when one of his best friends committed suicide. He began to sign his work with his mother's name 'Picasso' and spent the next four years hopping between Paris and Barcelona without truly settling anywhere. 1905-7 marked the 'Rose Period' and is when the first traces of Cubism began to appear in his work, Picasso also settled permanently in Paris.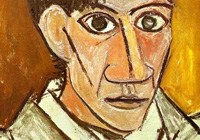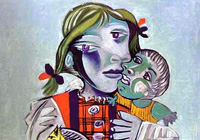 Along with close friend Braque, Picasso was at the forefront of the Cubism movement - experimenting and nurturing his dislocated and deconstructed human forms in monochromatic colourings, which have become his trademark. He also branched out into collage, sculpture and pencil drawings.
Between 1917 to the mid 1930's Picasso's love life seemed to have the biggest effect on his artistic production. Happy times meant upbeat art, colours and vibrancy whilst sad periods like those encountered during the 1920's called for darker, more surreal paintings.
One of the single most famous paintings to come out of the 20th century was painted by Picasso in 1937. Guernica is an exceptionally thoughtful, if not somewhat disturbing, reaction to the nonsensicalness of war. A direct response to the German bombing of Basque town Guernica in the same year.
Whilst Picasso did not buy into the Surrealist movement entirely, his works continued to become more and more surreal as he grew older, as recognisable human forms were replaced with shapes. His last years were lived out in Southern France where he died in 1973.
If you study Spanish in Spain you can admire a huge collection of Pablo Picasso's works at the Museo Nacional Centro de Arte Reina Sofia in Madrid or at the Museo Picasso in Barcelona.
Pablo Picasso: Artistic Styles and Influences
Picasso's life in Paris placed him at the cutting edge artistic development, allowing him to meet and learn from many of greats in the contemporary art world. The work of French painter Cézanne was of particular interest to Picasso.
However, Picasso was an innovator and much of what characterised his work was his own, entirely original, style. Along with Georges Braque, Picasso was at the forefront of developing the new artistic style of Cubism between 1907 and 1908. A form which he remoulded and reshaped continuously, but which remained prominent in his work throughout his life.
Cubism has become an important building block for the entire modern art movement. The idea of fragmenting and stylising real things, in particular human forms, paved the way for future abstract and surrealist painters. Picasso's Cubism was inspired by seeing an African art exhibition at the Trocadero Museum. The bold representations of human forms which he saw there would aid him in developing his own Cubic style. The first true example of Cubism is considered to be 'Les Demoiselles D'Avignon' which Picasso painted in 1907.
As Cubism developed, Picasso moved onto sculpture and collage which took their essence from Cubism. His employment of everyday objects like glasses and newspapers revolutionised the way that collage and sculpture were perceived and Cubism developed from its analytic form to Synthetic Cubism.
As Picasso got older he moved into a more abstract and surreal world in which he employed brighter colours and in which recognisable forms became symbolised by disparate objects and shapes. It is hard to know where his influences came from and much of what he produced in his later years can only been considered as a natural development of his Cubist roots.
Pablo Picasso: Famous Works
Mujer en Azul (1901: Museo Nacional Centro de Arte Reina Sofia, Madrid)
Child with a Dove (1901: National Gallery, London)
Les Demoiselles D'Avignon (1907: Metropolitan Museum of Art, New York)
Bottle of Vieux Marc, Glass, Guitar and Newspaper (1913: Tate, London)
Instruments de Musique sur un Table (1925: Museo Nacional Centro de Arte Reina Sofia, Madrid)
Guernica (1937: Museo Nacional Centro de Arte Reina Sofia, Madrid)
Workings and sketches for Guernica (1937: Museo Nacional Centro de Arte Reina Sofia, Madrid)
Las Meninas (1957: Museo Picasso, Barcelona)
El Pintor y La Modelo (1963: Museo Nacional Centro de Arte Reina Sofia, Madrid)