Experiences
Tell us about your experience
Why choose us? More than 10 schools in the country's most beautiful cities. 20 types of Spanish programs for all ages, accommodation & excellent services. Learn Spanish in Spain
Discover 11 countries and more than 20 destinations in South America, Central America and the Caribbean. One common language, many vibrant cultures and a lot more to learn. Discover Latin America
For students 5-18 years old, with 60% Spanish campers. Your children will make new friends from all over the world, learn languages, play sports, discover Spain and more! Spend Summer in Spain!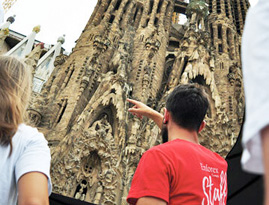 Barcelona

In this cosmopolitan city you will feel like a king.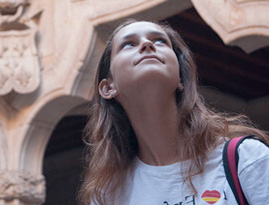 Salamanca

A city of reference for Spanish throughout the world.
Enforex is the leading Spanish language institute with 40 campuses in Spain and Latin America
Our teachers are the inventors of Prisma methodology, the most used to teach Spanish as a foreign language
We can create an uninterrupted Spanish course that includes multiple destinations at no extra cost
All of our schools are accredited by Instituto Cervantes
Need assistance?
Contact us!
Our team of advisors will help you choose and personalize your experience for your complete satisfaction.

ENFOREX is the leading organization trusted by students who want to learn Spanish in Spain and Latin America.
Get to know us!
Today in Enforex and on our social networks
Spanish culinary customs We'll explain all you need to know to delight yourself with Spanish culinary specialties just like a real Spaniard. Don't miss this practical article!

Miguel de CervantesThe famous Miguel de Cervantes. Here's the biography of our most famous writer.
We are member of / accredited by