Spanish Classes For a Personalized Learning Experience
Learn and enjoy with our spanish courses in Spain. At Enforex you will find a unique learning environment and methodology where you are at the center of our educational model. Our innovative teaching methodology guarantees a rapid and successful progress through a personalized and student-centered learning system.
We have developed our own teaching methodology, which has proven to be very successful. Our Spanish courses are designed to build each student's confidence and fluency in speaking Spanish naturally while emphasizing the study of the four key learning skills: Listening Comprehension, Reading Comprehension, Written Expression and Interaction, Oral Expression and Interaction.
To achieve this, we have designed a series of programs with three things in mind: flexibility, variety, and quality. With so many different Spanish courses to choose from, you're sure to find a program perfectly suited to your interests, learning style, and goals.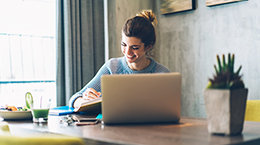 Online Spanish Course Intensive 25
Spanish Teacher's Online Training Course
A Sneak Peek at Our Spanish Courses
Professors That Make a Difference
Our teachers have an average of 8 to 12 years of work experience teaching Spanish to non-native speakers of all levels of fluency. We carefully select our professors for their education and enthusiasm, visible in how they manage their interactive and conversation-based classes.
Personalize Your Studies
At Enforex, you will be able to personalize your Spanish course to suit your own needs and interests. Our flexible-lenght programs start every Monday and can be personalized by building your own perfect course while choosing when, where, and how to study. You can add private classes or exam preparation courses to your intensive Spanish lessons and make the most out of your stay with us.
Small Group Classes
Our class size is limited to a maximum of 12 students, but most classes have around 6 students. This way, we make sure that you receive personalized attention from your teacher. Progress quickly while participating in class, practicing your Spanish, and interacting with your classmates.
Multi-Cultural Classes
Learning Spanish with students sfrom over 80 nationalities enriches classroom conversations and discussions greatly. You will continuously be debating current issues and everyday events which provides for a lively classroom atmosphere.
All Ages and Levels
We offer Spanish courses for all ages and levels. Our 8 Spanish Immersion Summer Camps provide a great experience for kids and teens, while our 32 schools in Spain and Latin America are perfect for everyone. Browsing our courses you'll find specialized programs for all age groups.
Why Choose Our Spanish Courses?
Learning Spanish is easy with Enforex. Here are some of the benefits:
Gain confidence in yourself
Strengthen your résumé
Tap into the benefits of being bilingual
Boost your academic transcript
Open your mind to a new culture
Connect with the Spanish-speaking world