Juan Gris: Life Story
Juan Gris was born in Madrid in 1887, the thirteenth of fourteen siblings. He received his artistic training between the ages of 16 and 18 when he studied Mechanical Drawing. During his youth he turned out a lot of humorous sketches which were published in various different Madrid publications.
However, aged 19, young Juan Gris fled his motherland to avoid being called up for Military Service. He headed to Europe's most happening artistic hub of the time, Paris. It is here that Gris really began to develop his artistic flair as he hob-nobbed with the greats of the twentieth century art world and learnt from his contemporaries.
Eventually the city atmosphere of Paris became a burden, continuously irritating his severe asthma. In 1922 Gris relocated with his wife, Josette and young son to Boulogne-sur-Seine on the outskirts of the city. During these later years of his life, Juan Gris' artwork became more respected and renowned throughout Europe and his talents truly began to blossom as he contributed his own unique style to the Cubist movement. Sadly, the artist died in 1927, aged just 40, meaning that we will never know in which direction his art would have gone had he been given a few more years.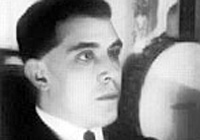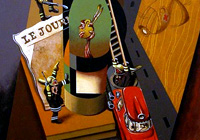 Juan Gris: Artistic Styles and Influences
Juan Gris' main period of artistic inspiration came when he moved to Paris in 1906 and found himself surrounded by a plethora of the world's best painters and sculptors.
Matisse was a particularly prominent influence, especially for his use of colour. Gris was also heavily inspired by the Cubism movement that was just kicking off. Pablo Picasso and Georges Braque became friends of the young Gris and were to be the most influential mentors for his artistic development.
Juan Gris experiemented with Cubism between 1912 and 1915, fragmenting human forms, as well as inanimate objects similar to the paintings of his contemporaries, Picasso and Braque. From 1915 onwards however, he began to develop his own style and his take on Cubism came into its own.
If you want to see some of Juan Gris' most impressive paintings for yourself then study Spanish in Madrid and head to the Museo Nacional Centro de Arte Reina Sofia, where an entire exhibition room is dedicated to him.
Juan Gris: Famous Works
Portrait of Picasso (1912: Art Institute, Chicago)
Violin and Guitar (1913: Museo Nacional Centro de Arte Reina Sofia, Madrid)
Bottle of Rum and a Newspaper (1914: Tate Modern, London)
Portrait of Josette (1916: Museo Nacional Centro de Arte Reina Sofia, Madrid)
Mujer Sentada (1917: Museo de Arte Thyssen-Bornemisza, Madrid)
The Open Window (1921: Museo Nacional Centro de Arte Reina Sofia, Madrid)
Violin and Fruit Dish (1924: Tate Modern, London)
Guitar in front of the Sea (1924: Museo Nacional Centro de Arte Reina Sofia, Madrid)
The Singer (1926: Museo Nacional Centro de Arte Reina Sofia, Madrid)