Learn Spanish in Tenerife
Our Spanish school in Tenerife is the perfect place to get a truly balanced learning-and-leisure experience. Enjoy personalized learning within our school's fully equipped classrooms, then get to know your teachers and fellow classmates better while relaxing in the building's common area, library, or central open-air courtyard. Located within the Edificio Bélgica, a traditional Canary Island-style building, our school is guaranteed to provide you a comfortable and fun Spanish learning experience.
Minimum student age: 17 years old
Schedule: 9 a.m. - 5 p.m.*
*All schools open at 8 a.m. on Mondays for new students who need to take the placement test.
Location of Our Language School
With so much to do on the island, you are sure to fall head over heels for its lively atmosphere, perfect climate, gorgeous beaches, unique culture, and delicious food. Oh and we can't forget the wildlife, nature, and tropical lush plants that you're sure to love. You won't be able to stop exploring. Join us and learn how to live the Canary Island life!
The boutique school is located right in the heart of Puerto de la Cruz, on the sea promenade. It is just a short walk away from beautiful sandy beaches and recreational areas. Our Spanish School in Tenerife offers you the possibility to study with perfect weather and amazing natural landscapes any time of the year.
In the city of Puerto de la Cruz, northern Tenerife
5-minute walk from Martianez Beach
2-minute walk from Lagos Martianez
10-minute walk from City Hall
Facilities that Help You Study
Our Spanish School in Tenerife is cozy, familiar, and hosts a central courtyard full of nature. It has several sunny and lively classrooms and it is a very good example of local architecture and an excellent location.
A traditional Canary Island-style building, the Edificio Bélgica
7 classrooms full of natural light, all with multimedia equipment
Wi-Fi throughout the school
Teachers' room
Reception office
Common room with TV, stereo, library, and videos
Central patio
Student Comments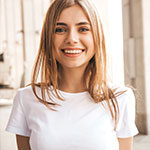 Melissa Wolff"I took a DELE preparation course and loved it. I passed the DELE on the first try, so it worked! My teacher was super familiar with the structure of the test, so the classes were focused just on what we needed. Now I can put my real Spanish level on my résumé, which I hope will land me a job where I can use my Spanish."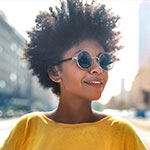 Sophie Duval"I loved staying in Spain with Enforex. On the first day of school I didn't even know one word in Spanish, but I learned the language very fast with the classes. The classes were super helpful and also so much fun. All the teachers were extremely nice, and I made really good friends at the school who I'm still in contact with. I hope to come back and see everyone again very soon!"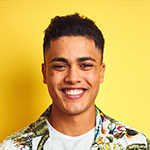 João Oliveira"This was the first time I had ever lived outside Brazil. I felt very welcome despite not speaking a single word of Spanish. Everyone was so friendly and attentive. The teachers are perfect! Not to mention the school is impeccable and the rooms are new and in perfect condition. I loved Spain, but without Enforex I don't think I would have had such an amazing and unforgettable experience. Hopefully, I can return soon and stay longer!"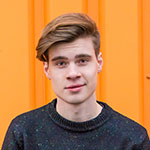 Christoph Kurtz"The very modern and clean school is ideal for learning Spanish. I was very surprised by the highly motivated and friendly teachers. Small class sizes ensure a very productive and at the same time relaxed learning atmosphere. PS: A huge thanks to Ramón! Thanks to your private classes I was able to take full advantage of my stay. I picked up Spanish grammar even faster and truly understood it!"