Francisco Goya: Life Story
What we can say with utmost certainty is that the most famous artist to come out of eighteenth century Spain did not have it easy. Francisco Goya's life was punctuated with highs, lows and very lows, something which made his art even more enthralling and his suffering even more intense.
Born in 1746 in Aragón, Francisco de Goya became an artist's apprentice aged 14 before heading off to the bright lights of Madrid in 1764 with all the aspirations of a young, creative 18 year old laid out before him. Several years in Madrid and one year in Italy gave him the opportunity to meet many great masters who were to influence his future artistic career.
Goya got his first commissions frescoing the walls of many Madrid churches. Once the 1780's arrived he came into his own producing a series of spectacular tapestry cartoons which were immensely popular. The end of this decade saw him appointed as court painter to King Carlos IV, sealing what was probably the most stable time in the painter's life. His fighting spirit was demonstrated in his response to the Spanish public on their reaction to his painting 'La Maja Desnuda' (1798). The exquisitely painted nude shocked audiences who demanded Goya painted some clothes on his mysterious naked woman. His response was stalwart - leaving the original as she was, he reproduced 'La Maja' in exactly the same pose, but this time, with clothes on. This pair of paintings have become some of his most famous and can be seen in Madrid's Prado Museum.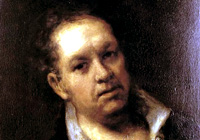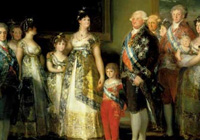 A tragic illness left Goya profoundly deaf in 1792 and from then on his work took a darker turn. The culmination of the nightmares lived during the French occupation of Spain between 1808 and 1814, teamed with his own mental instability led to some of the most eerie, shocking and intriguing paintings in art history. Francisco de Goya was one of the first to use art as an expression of self, inner turmoil and feeling as opposed to for purely courtly and religious means.
His last four years were lived out in France where he produced some interesting lithographs. Francisco Goya died in 1828.
Francisco Goya: Artistic Styles and Influences
There is a lot to be said for what influenced Goya's work. Whilst many artists take direct elements from the work of their contemporaries, much of Goya's most famous work came directly from within, from a realm totally incomprehensible to those who view his paintings. However, what he has captured so perfectly is an element of the human soul in torment - something that people suffer with from generation to generation - and that is what makes certain pieces so timeless.
In his early years Francisco Goya was influenced by Francisco Bayeu, who worked as a court artist when young Goya arrived in Madrid. He also found great inspiration in the works of seventeenth century greats Rembrandt and Velázquez.
After going deaf in 1792, Goya's style became more unique. He began to use his art to reproduce the turbulent war scenes that he himself had lived through. Two of his most renowned paintings, 'El 2 de Mayo' and 'El 3 de Mayo' were painted in 1814 after the French arrived in Spain. The paintings show in all honesty the fear and brutality suffered by the Spanish during this period. The bold lines and striking colours Goya uses makes the paintings all the more memorable and the careful use of chiaroscuro in the 'El 3 de mayo' makes the scene even more chilling. Both paintings can be admired today in Madrid's Prado Museum. Similarly, his three series' of etched and somewhat surreal pictures were also painted around this period. 'Los Caprichos', 'Disparates' and 'Desastres de la Guerra' fuse wartime preoccupations with Goya's own mental torments which were only to become more prominent in the years that followed.
His inspiration for 'Las Pinturas Negras' (The Black Paintings) is hard to nail. In the same way as these spectacular artistic creations went without any real explanation, it is almost impossible to understand where they came from. The collection of 14 dark and disturbing paintings was named after the artist's death when they were found painted on canvasses covering the walls of his home. It appears that they were not painted for anybody else but himself and they express the madness that was going on in his own tormented head since his world was deafened.
You can get a close up look at the Pinturas Negras and many of Goya's other works if you choose to study Spanish in Madrid and get down to the enormous Museo de Prado.
Francisco Goya: Famous Works:
La Maja desnuda (1798: Museo de Prado, Madrid)
La Maja Vestida (1798: Museo de Prado, Madrid)
Los Desastres de Guerra (1810-15)
El 2 de Mayo (1814: Museo de Prado, Madrid)
Saturno Devorando a su Hijo (1819-23: Museo de Prado, Madrid)
El Perro Semihundido (1821: Museo de Prado, Madrid)