Joaquin Sorolla: Life Story
One of the top painters to come out of Spain in the 20th century was undoubtedly Joaquin Sorolla. Born in Valencia in 1863, Sorolla was raised by his aunt and uncle as his parents died when he was only two. Whilst every attempt was made to teach him the locksmiths trade and have him follow in the footsteps of his uncle, Sorrolla was passionate about art from a young age and enrolled himself in after school drawing classes when he was just 11.
Aged 16 he entered into Valencia's Escuela Superior de Bellas Artes de San Carlos and proceded to develop his artistic talents. Whilst he studied the traditional masters who had gone before him, it was clear that Joaquin Sorolla had something different to offer the art world. His work didn't always conform to traditional norms and he lost out on winning competitions for dealing with unclassical themes. However, by the late 1880's things changed and Sorolla began to be encouraged and appreciated as he picked up medals in numerous art competitions.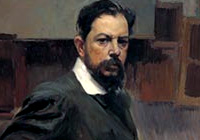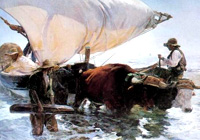 1884 saw him head to Rome where he was to study classical painting. He travelled to Paris the following year and, like many other budding artists, was captivated by the thriving experimental art scene that he found there.
In 1888 he married Clotilde García and the following year they went back to their homeland and settled in Madrid. It was at this point that Sorolla really began to get a name for himself as he fused together all his influences and polished his own artistic style. He spent the rest of his life painting and travelling extensively throughout Europe and the US where he gained international acclaim.
In 1914 Joaquin Sorolla added an academic notch to his belt and began to lecture in colour and composition at Madrid's school of Bellas Artes. In 1920 he suffered a hemiplegia attack which paralysed him down the left side. Eventually he died in Cercedilla in 1923.
Joaquin Sorolla: Artistic Styles and Influences
Sorolla began his artistic career with some fairly classical training. He was both inspired and influenced by many of the Spanish masters after he visited Madrid's Prado Museum in 1881, aged 18. Amongst others, he greatly admired the careful techniques of Diego Velázquez and El Greco and this became apparent in his own painting.
Similarly, the delicacy of Classical and Renaissance art would be of great importance to his artistic development when he studied in Rome aged 21.
However, the turning point for Joaquin Sorolla was undeniably his first visit to Paris in 1885. In that special city artistic flair blossomed and he was able to see art being lived and created by his contemporaries, as opposed to just studying the works of those who had gone before. Sorolla was intrigued by the Impressionist movement which was at its peak during this time.
Sorolla headed back to Rome, but this time he took the thick brush strokes and vibrant softness of impressionism with him, and he began to fuse these elements with his classical training. Sorolla had touched upon something - something fresh was emerging, something new and something which belonged to just him.
Joaquin Sorolla's works are particularly distinguishable for the depiction of light. Few artists mastered so well the intangible balance between light and dark, but Sorolla's paintings produce it seamlessly time and again. In his later years, as well as continuing to paint, he worked on numerous exquisite portraits.
If you are heading to Madrid, you can admire an extensive collection of Joaquin Sorolla's painting in the Museo Sorolla (General Martínez Campos 37, Metro: Iglesia/ Rubén Darío/ Gregorio Marañón).
Joaquin Sorolla: Famous Works
Moro con Naranjas (1885: Museo Sorolla, Madrid)
La Fuente, Buñol (1885-90: Museo Sorolla, Madrid)
El Pillo de Playa (1891: Museo Sorolla, Madrid)
Mar y Rocas de San Esteban, Asturias (Museo Sorolla, Madrid)
A la Sombra de la Barca, Valencia (1903: Museo Sorolla, Madrid)
Fuente del Alcazar, Sevilla (1908: Museo Sorolla, Madrid)
Clotilde con Traje de Noche (1910: Museo Sorolla, Madrid)
La Siesta (1911: Museo Sorolla, Madrid)
Retrato de Raquel Meller (1918: Museo Sorolla, Madrid)
Retrato de la Señora de Pérez de Ayala (1920: Museo Sorolla, Madrid)