Cook like a Spaniard!
A sampling of Spanish delights, pulled from some of Spain's various regions.
Gazpacho
Andalucía
Ingredients
1 kg of ripe tomatoes
2 small green peppers
2 garlic cloves
100 g of farmhouse bread
4 tbsp of extra pure olive oil
1 tbsp of sherry vinegar
water
boiled egg
bread
salt
Instructions
Dice all of the vegetables and put them in the mixer/food processor along with oil, water, vinegar, salt, and bread (already soaked in water). How much water you add into the mixer depends on how thick you like your gazpacho. Mix until the vegetables are finely blended. Refrigerate. Serve cold.
Presentation
Keeping them all separate, dice up more tomatoes, cucumbers, green peppers, onions, bread, and hard boiled egg to be added to the gazpacho afterwards. That way, each person can add what he/she wants! Enjoy!
Pulpo a la gallega (Octopus with potatoes and paprika oil)
Galicia
Ingredients
pulpo a la gallega 500 gm of octopus
1 spoonful of toasted paprika
2 dl (deci-liters) of virgin olive oil
4 small potatoes
2 cloves of garlic salt
Instructions
Octopus:
In a large pot, boil water. Place and quickly remove the octopus so as not to lose the outer later of skin. Now cook for between thirty and forty minutes.
Garlic sauce:
In a pan, heat the oil to desired temperature along with the crushed garlic. Remove the pan from the heat and allow it to cool slightly. Now throw in the paprika and a splash of water. Let the mixture stand.
Potatoes:
Without peeling them, wash the potatoes and place them in a pot filled with salted water. Boil them until they are ready but avoid overcooking.
Presentation
Cut the potatoes and octopus tentacles into thickish slices, and alternate to form a ladder, ending with the finest part of the tentacle. Salt and sprinkle with paprika oil.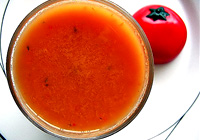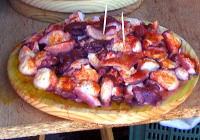 Pisto manchego
Castilla La Mancha
Ingredients
1 kg ripe tomatoes
1 kg green peppers
olive oil
salt
Instructions
In a pan of abundant olive oil, fry the chopped up peppers. When they become slightly browned, add the salt along with the peeled and also chopped up tomatoes. Let the mixture cook and stir it every once in awhile until the olive oil broth dries up.
Fabada Asturiana (bean stew)
Asturias
Ingredients
fabada 1 lb. large white beans
4 small chorizos or 2 large ones
1/4 lb. pancetta
1/4 lb. jamón serrano (Spanish mountain ham)
(optional) 2 morcillas (blood sausages)
(optional) 1/2 lb. lacón or ham hocks
1/2 onion, sliced
2 garlic
1/2 tsp. paprika
a few threads of saffron
oil
1/4 bunch of parsley
salt to taste
Instructions
During the night before you want your delicious fabada asturiana, soak the white beans in water.
The day of, put the chorizos, pancetta, jamón serrano, and any other meat products you decide to use into a shallow pan. Top it with white beans. Now add just enough water to cover the beans and meat. Allow the mixture to come to a boil on medium heat. Now turn down the heat and let the mixture simmer for an hour, making sure the water level continues to cover the beans (add more water if necessary).
In a separate pan, fry up the onion, garlic, paprika, and saffron for just a few minutes. Add this to the beans, also throwing in parsley and salt. Mix it up carefully. Now let the entire mixture cook for another hour.
Serve and savor!
Gambas al Ajillo (Garlic Shrimp)
Catalonia
Ingredients
¼ cup olive oil
¼ cup butter
1 ½ lbs shrimp, peeled and deveined
4-6 garlic gloves, minced
¼ cup fresh lemon juice
1 teaspoon paprika
½ teaspoon red pepper flakes
4 tablespoons flat leaf parsley, chopped
salt
fresh ground pepper

Instructions
In a wide and shallow sauté pan, warm the olive oil and butter on high eat. Now add the shrimp and the garlic and sauté them for just 2-3 minutes. The next step is to add the lemon juice, paprika, pepper flakes, and desired amounts of salt and pepper.
To serve, transfer the pan's contents to a serving dish, sprinkle with parsely, and serve immediately.
Bacalao al pil-pil
Basque Country
Ingredients
4 medium slices of salt cod cut from the side
1/4 liter of olive oil
6 cloves of garlic
1 chili pepper
Instructions
Plan this meal ahead of time. Let the cod soak in water (change the water 3-4 times) for 36 hours. On the day of, remove the scales and bones and fully dry the cod with a cloth. Finely slice the garlic and fry it in the olive oil over low heat. When the garlic starts to brown, remove it and gather on one side of the pan. Using the same pan and the same oil, add the cod and cook on over a low flame for about 10 minutes. In another pan, add some of the oil from the cod. When this oil warms, add the slices of cod with its skin facing down. Move the pan from side to side and little by little add the rest of the oil from the first pan. When the cod is fully cooked, garnish with garlic and some sliced chilli pepper.