Quesada pasiega (Cantabria)
Before we give you the recipe for this Cantabrian desert, we should clarify that the term "pasiego" refers to something whose origin lies in the valley between the rivers Miera, Pisueña and Pas; beautiful green, undulating countryside which houses an abundance of cattle, and thus, milk and cheese, crucial ingredients of this cake that is like a pudding.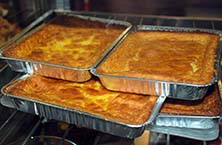 If you want to prepare this recipe, you will need to know that there are two ways of doing it: the traditional one and the one that is a little more dishonest. The only difference is that for the traditional way there is a need for milk and something to make this curdle; but as we know, it is a little time consuming to buy "el cuajo" in the pharmacy and then wait five hours, so we recommend that you use cottage cheese, which is always available in shops and markets.
So you will need the aforementioned cottage cheese, flour, sugar, eggs, milk, lemon peel and a little cinnamon. Simply mix all of the ingredients, whisk with a beater, place in a buttered pan and put in the oven at 180 degrees for 55 minutes or until golden. Then all that is left is to un-mould it, allow it to cool down and cut into small portions…and enjoy it! First, because you will be honoring a tradition, and second…because quesada is delicious!