Spanish Rice
After a single glance at a Spanish menu, one of the conclusions you will undoubtedly come to regarding the cousine is that there is a whole lot of rice. Rice is absolutely vital to the country's gastronomy, which perhaps has to do with (little-known fact) Spain actually being the second largest producer of rice in Europe. Along with the architecture and music that set foot on the Iberian peninsula along with the Moors back in the eighth century came the introduction of rice in Spain. In fact, the Spanish word for rice - arroz - bears evidence of the grain's history as it comes from the Arabic al arruz. Thirteen centuries later, it's no surprise that Spanish rice is such a fixture in the Spanish diet!
If you were to put together and bind all of the Spanish rice recipes, you would probably have a book about the size of Don Quijote, so here are just a couple of the Spanish rice dishes you're sure to come across.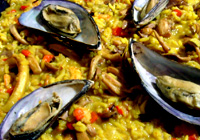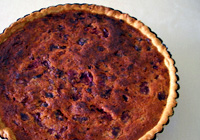 Paella
There are tons of paella varieties, but anyone from Valencia - the reigning city of paella - will tell you that there are two "true" paellas. The first is the paella valenciana (Valencian paella), made with Spanish rice, chicken, rabbit, tomatoes, sweet pepper, green beans, olive oil, saffron, and sometimes artichokes and peas.
Paella marinera (sailor's paella), the second of the "purist" paellas, has Spanish rice, mussels, calamares, shrimp, lobster, clams, garlic, olive oil, tomatoes, saffron, and any other shellfish thrown in there. Paellas are large Spanish rice dishes meant to share between at least two people- one look at the size of the normal paella pan placed in front of you and you'll quickly see why!
Arroz con leche
A delicious Spanish rice dessert is arroz con leche, a classic item on any Spanish dessert menu. Made by cooking Spanish rice in milk and sugar, add lemon peel or cinnamon for both extra flavor and a heavenly aroma. Whether eaten warm during the winter or chilled during the summer, this delectable dessert is sure to satisfy your sweet tooth!
More About Spanish Food...