Spanish Eating Customs: Meals
A normal day's breakfast- or desayuno- typically consists merely of a cup of coffee, although it's also commonplace to accompany your steaming café con leche with a croissant or other pastry. While an American traditional breakfast has pancakes, bacon, and eggs, the Spanish "traditional" breakfast consists of the vastly popular churros, served sprinkled with sugar or dunked in hot chocolate.
Spaniards eat their lunch, or comida, between 2:00 and 4:00 in the afternoon. Serving as the day's main meal, it is traditionally quite a bit larger than the dinner meal, or cena. A typical lunch will have several courses. The first course is the lighter part of the meal, usually consisting of a salad or soup, while the second course is normally your typical fish or meat dish. A dessert can be a simple piece of fruit, a typical Spanish flan, or a sweet pastry or cake.
While there are of course many people who eat full meals, the Spanish dinner (cena) is traditionally much smaller than the midday comida. It often consisting of something lighter like a salad, a sandwich, or a selection of tapas. Spaniards eat late for this final meal of the day- even more so on weekends and during the summer- sitting down to eat anytime from 9:00 until 11:00 in the evening.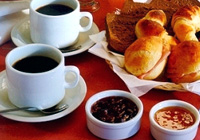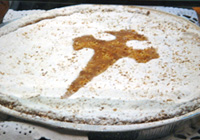 Spanish Eating Customs: Tapas
A tradition begun long ago in the southern city of Seville, Spaniards have since perfected the art of snacking. Going out for tapas consists of travelling from bar to bar and sharing plates of the bars' specialties with a small group of friends. Learn more about tapas!
Spanish Eating Customs: Sobremesa
The name says it all. The word sobremesa literally means "over the table" and refers to the art of conversation after a meal. Instead of taking the last bite and leaving, Spaniards often stay at the table conversing, savoring each other's company, and perhaps sharing a drink. If good conversation ensues, be prepared to stay for hours!
Spanish Eating Customs: Siesta
No, it's not a myth. Yes, the infamous siesta really does exist. It began long ago as after eating the large mid-day meal farmworkers needed to rest and digest before going back out to work the fields. While this daily break doesn't necessarily include a nap, businesses and stores do shut down for about two hours and many people return home to eat with their families.
Spanish Eating Customs: Wine
Whether out at a restaurant or in the home with the family, it is very typical to drink wine along with a meal. So common, in fact, that restaurants offering a menú almost always include wine in the advertised price.
Spanish Eating Customs: Coffee
Coffee is quite the Spanish phenomenon. Many Spaniards drink several cups of their favorite caffeinated beverage in the course of a single day. Coffee also traditionally follows a Spanish meal and is served after the dessert. To fit in with the locals, ask for a café con leche (coffee with milk), a café solo (coffee without milk), or a café cortado (coffee with some milk).
Spanish Eating Customs: Tipping
While its practice is completely voluntary, many restaurant patrons choose to leave a modest tip of around 5-10% after a meal.
More About Spanish Food...