Bandullo (Galicia)
These days, "bandullo" is also known as "the credit-crunch flan". The secret of this Galician desert is in its simplicity, and its cheap ingredients. So why not try and make it this afternoon?
You'll need 200 grams of day-old French bread, a little less than a liter of milk, 4 eggs, nuts (preferably crushed toasted almonds and raisins), 100 grams of sugar, a tablespoon of butter, a tablespoon of cinnamon two tablespoons cumin, lemon peel and mint (or herb).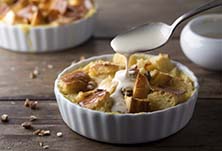 Put the milk to boil with the cinnamon, lemon peel and mint until it boils and let it infuse for a few minutes. While this happening, cut the bread into small pieces, strain the milk and pour it on the bread, let the bread soak until soft (this could be a matter of minutes, or hours, so carefully watch the mixture)
When the bread becomes dough (you can help this process with a beater), add the eggs, sugar, cinnamon, cumin and butter. Beat it until the mix is blended and add the dried fruits. Then throw it around a mould that has been greased with butter and put it in the oven, that should have been preheated to 190º ...Cook for 50 minutes...and that's it!
Well... perhaps it is not completely done. There are a couple of tricks to help make a perfect "bandullo": to make it fluffy, traditionally you have to put the mixture into a pork casing before baking; but of course, we are not going to recommend this. Instead we recommend that you put a bowl of water in the oven when you are warming it up and put it on during the cooking. But you need to keep this secret!