Flamenquines
If you've ever been to Cordoba (Andalusia), it is likely that you have seen a patron in a bar or restaurant enjoying a dish consisting of a giant, golden roll of meat goodness accompanied by some fried potatoes. What you saw was a Spanish specialty that we love to eat and, above all, easy to prepare.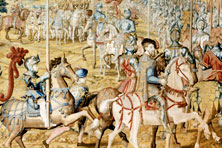 But before we begin with the recipe, let's clear something up that you are surely asking yourselves: why are they called flamenquines which means little Flemings? It is said that the golden color of this prepared dish is similar in color to the blond haired Flemish troops (form Flanders, Belgium) that accompanied King Charles V upon his arrival in Spain. Others say it is related to Flamenco music and dance since the "original" recipe was created by a restaurant in Cordoba around 1939.
Having said that, let's get on with the recipe. To make this dish, you'll need some pork loin filets, slices of Spanish serrano ham, white wine (or sherry), flour, eggs (beaten) and fine breadcrumbs.
According to the original recipe you should marinate the pork in the wine for at least one hour.
Once marinated, place a slice of ham over each filet and roll it into a cylinder shape. (Abuela tip: to hold the shape of the filet use toothpicks—but don't forget to remove them before serving!) When you have rolled them all up, put them through the egg wash and dredge them in the breadcrumbs.
Fry them in a pan with plenty of hot oil until golden brown. Be careful, they don't take long to cook. Serve them with French fries or salad. Be careful not to make a lot of potatoes or salad—as you can imagine, this dish is quite filling!