Churros
The Spanish version of fried dough is called a churro and, unlike its ever-delicious fairground counterpart, it is a commonplace treat for breakfast and a snack. Each morning, you can easily find a churrería- a small shop or street vendor that sells churros- by simply following the mouth-watering smell right back to its source. Or you could follow groups of young people, as churros provide the perfect place to cap off a crazy night of Spanish fiesta. You can usually buy the fresh, ridged churros by the half-dozen or dozen, either to eat there or to bring home. Whether you sprinkle them with sugar or dunk them in a steaming cup of hot chocolate, be sure to eat them while they're hot and crispy!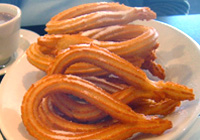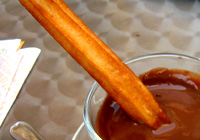 Feeling adventurous? To try your hand at making churros, jot down the following recipe:
Churros Recipe
Ingredients
1 large cup of white flour
1 large cup of water
1 teaspoon of oil
pinch of salt
olive oil
sugar
Directions
In a saucepan, heat up the water, salt, and a spoonful of olive oil. When it comes to a boil, add the flour and stir rapidly until it forms a smooth, thick mixture. Wait a few minutes for it to cool and then place the mixture in the donut maker. Shape the dough and fry them in ample hot oil until they turn golden. Now and while hot, sprinkle them with sugar, cinnamon, or just dunk them in thick hot chocolate. Enjoy!
More About Spanish Food...