Tortilla Española
You absolutely cannot leave Spain without trying its famous tortilla española (Spanish omelette), a simple but undoubtedly quintessential part of Spain's gastronomy. Served hot or cold, as a meal or as a tapa, on its own or in a sandwich, the tortilla española is certainly a category of its own. Not to be confused with the tortilla francesa (French omelette), the thick tortilla española is cooked in olive oil and features fried, thinly-sliced potatoes along with the eggs. While the tortilla española is usually kept to the basics of potatoes and eggs, sometimes you can find other vegetables - onion often makes an appearance- thrown into the mix for variety.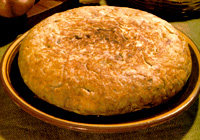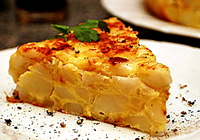 Want to try to make your own tortilla española?
Tortilla Española Recipe
Ingredients
4 medium potatoes
4 or 5 eggs
1 medium onion (optional)
1/4 liter of olive oil
salt
Instructions

Peel the potatoes and cut them into thin slices. Heat a deep pan with olive oil and place the potatoes in the oil. Keep the stove at medium heat, which allows the potatoes to cook slowly and soak up the oil. If you want, finely chop the onion and add it to the potatoes and oil. Continue to slowly fry the pan's contents until the onions turn soft and slightly brown. After ten minutes, strain the rest of the oil.
Adding a pinch of salt, beat the eggs in a big bowl. Add the potatoes (and onions if you included them). Now put the pan that held the potatoes back on the stove at the same medium heat with a little bit of oil and add the contents of the bowl (eggs, potatoes, and onion). Cover the pan and leave it to cook on low heat for 5-10 minutes until the bottom begins to brown. Using a lid or a large plate, turn the omelette upside down and then put it back in the pan with the uncooked side on the bottom.
When both sides are slightly brown, take your cooked tortilla española off the heat, put it on a plate, wait a little bit for it to cool, and then dig in!
More About Spanish Food...