Atascaburras (La Mancha)
Well, perhaps the name of this Manchego speciality sounds a touch crude (it literally means "something that blocks a donkey's way") but we can tell you that it is a rich recipe, although it may be a little heavy.
So, broadly speaking, it is mashed potatoes with cod, egg and nuts. It is said to be a popular meal with the shepherds of the La Mancha area, eaten in an attempt to counter the bitter cold of the plains during winter.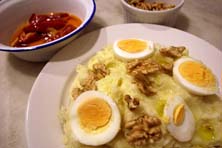 Preparing it does not take much time: you need potatoes (or pre-prepared mashed potatoes) desalted cod, two cloves of garlic, oil, salt, boiled eggs and nuts.
First you will have to cook the potatoes for 30 minutes and the cod separately for 5. Once peeled, crush the potatoes together with the cod and a splash of the water that was used to cook the fish in. Crush until it forms a paste or puree (One trick is to stir the cod with pre-prepared mashed potatoes; it is not the same but it is faster). Crush the garlic and add it to the mix. Add oil while stirring. Once the taste is to your liking, chop the cooked eggs and add to the puree alongside the walnuts.
Easy, right? Well…now that you know how to prepare it, we can tell you how it earned its name. It is called atascaburras not because it is so dense it got stuck in the throat of a donkey, but because of something more interesting: apparently, when the fork or mortar mashes the potatoes it makes a noise that is similar to the hooves of a donkey when they are stuck in the mud. Imaginative, right?