Alboronía
Alboronía is an Andalusian dish that is ideal for Semana Santa that is based on vegetables and legumes. Interestingly it is said to be a dish of Jewish-Muslim origin; it is also considered "the mother of all ratatouilles". So you see it has a "transcendental" and even multicultural aspect. But we are not going to bore you with the philosophy applied to the stoves but talk about what is important: how Alboronía is made.
You will need zucchini, eggplant, ripe tomatoes, onions, garlic, potatoes, oil, salt and a little sugar.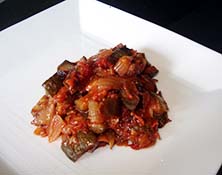 Chop the tomato, onion and garlic. In a pan with a splash of oil fry the onion and garlic and then add the tomato with a pinch of sugar and fly lightly.
Separate the zucchini and eggplant and add them both to the pan letting everything simmer for 30 minutes. Meanwhile, peel the potatoes and fry them in another pan.
All that is left is to serve, and we should do this by putting a base of fried potatoes on each plate and mixing up the other ingredients. A delicious and very simple dish that will be popular with all guests.