Tapas History
The Spanish practice of going out for tapas - called el tapeo - had its humble beginnings long ago and ironically originally involved empty plates. Widely thought to have gotten its start in Seville, bartenders would cover - or tapar - wine glasses with a small plate in order to protect the drink from fruit flies. Soon, they took to placing a simple slice of ham on top of this place, an addition which naturally appealed to bar patrons. Seeing the possibility of attracting more customers, the bar-owners began varying the tapas adorning the little plates that came with each drink, and the widespread national phenomenon known as tapas got its start.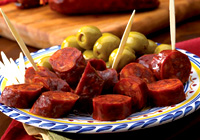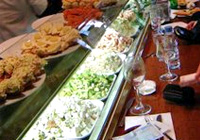 Traditions
Going out for tapas is one of the few phenomenal gastronomic experiences that doesn't involve a table cloth and a pricey sit-down meal. The way to enjoy tapas is to stand at the bar with a group of friends, share a few different tapas, and wash them down with wine or beer. Afterwards, pick a new bar, a new spread of tapas, and repeat the process. You can easily see why, when the conversation is lively and the tapas delicious, this advanced art of snacking can certainly substitute a whole meal.
Typical Tapas
Don't be shy about asking what order as most bars will suggest that you try their specialties, which usually happen to be the region's specialties as well. Tapas menus undeniably vary as you move through Spain; the best tapas in central Madrid, for example, are sure to be different from the choice tapas along the northern Galician shores. However, regardless of whether you're relaxing along the Mediterranean or channelling your inner Don Quijote in La Mancha, you are sure to find some common tapas "classics."
As Spain is located on the Iberian peninsula and therefore very nearly surrounded by water, seafood and shellfish naturally play a huge part in Spanish gastronomy. A few delicacies of the sea to try are calamares (fried squid), cod fritters, gambas pil-pil (prawns in hot, garlic oil), and boquerones (anchovies). Moving away from seafood, other typical tapas include chorizo (sausage), paella (rice dish), a variety of casserole stews, callos (tripe with chickpeas), jamón serrano (cured ham), albóndigas (meatballs) and the ever classic tortilla española (Spanish potato omelette).
More About Spanish Food...