Tocino de cielo
Is tocino de cielo the perfect dessert? We don't know, but what we do know is that it has all the makings to be The One. It's easy to make, delicate, delicious and not too heavy. As if that weren't enough, it also has a curious history. We'll be fast since we know that you want to get to the recipe as soon as possible.
The first reference to tocino de cielo dates back to 1324 from the Convent of the Holy Spirit in Jerez de la Frontera. At that time, they used egg whites to clarify wine. But what would they do with the egg yolks? The nuns were pretty handy with pastries and one those would become tocino de cielo. Now let's get on with the recipe...
The great thing about this dish is that you can cut it into portions that work best for you. We'll give you quantities for "normal" sized mold. You will need: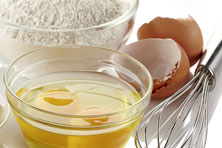 7 egg yolks
3 eggs
14 oz (400 gr) sugar
8 ½ oz. (250ml) water
For the caramel:
3 ½ oz. (100 gr) sugar
1 tablespoon water
Mix the water and sugar together and heat the mixture over a medium flame. Blend well for 5 minutes, remove and let cool.
In a bowl, beat the eggs and egg yolks together and slowly add the cooled water and sugar mix.
When the two mixtures are combined, set aside and prepare the caramel in a saucepan. Cook the caramel until golden colored.
When the caramel is ready pour it into the bottom of the mold. On top of the caramel, add the egg mixture.
Cover in aluminum foil and place the mold into a water bath and put into a preheated oven for 40 minutes at 340ºF (170ºC).
When cooked, remove from oven and let cool. When cool place in refrigerator until cold. When ready to serve, remove from mold and cut in to portions.
When you try it, you will be surprised how only a few ingredients can make something so good.