Eggs a la Flamenca
There are many theories about where the name of this recipe comes from: some say the creator of the recipe named them that way because of the color of the ingredients and how it reminded him of the colors found on the dress of a flamenco dancer. Others say it's because when they were first eaten, the lucky diners couldn't hold back a hearty "Olé!"
These eggs are easy to make and allow for different types of ingredients although the most "traditional" are eggs (of course!), green onion, green peas, Spanish chorizo, Serrano ham, Parsley, Spanish pimentón or paprika, a can of tomate frito (you can substitute this with tomato sauce), salt and olive oil.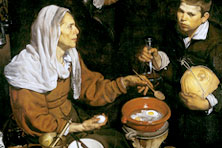 We begin by lightly sautéing in olive oil the chopped onion and when it is translucent, add the peas and let them soften. When the peas have softened up, add the diced chorizo and let it brown. When the chorizo is ready add the diced ham. While moving the mixture in the pan with a spoon, add a tablespoon of pimento and the tomate frito. Let the mixture cook a few minutes while stirring and then transfer the mixture into a ceramic dish or casserole. The base is prepared!
Now we just need to add the eggs. It's at this moment where ideas begin to differ as to how to make the perfect huevos a la flamenca. Some people prefer to cook the eggs in the oven while others prefer to fry them. Since we don't lean one way or the other, we'll explain both methods.
Oven: To finish this dish in the oven, we must first separate the yolks and the egg whites. Pour the egg whites over the vegetable base and cook for 10 minutes at 350ºF (180ºC). After 10 minutes, add the yolks and cook another 3 minutes.
Fried: Simply fry the eggs as you normally would and put them on top of the vegetable base, which has been cooking in the oven.
We've done the difficult job of trying both of these methods and we can say with total confidence that we liked them both. You should also try both methods to see which one you prefer and in the process you'll probably say a few "Olé's" too.