International Food That Conquers Spain
Of course Spanish people don't only eat Spanish tortilla and paella—even though that's not too bad of an idea. We are also open to the influences of other countries and their food. In fact we are like food from outside of Spain just like anyone else, but what are the favorite foods that originated outside of Spain?
Italian food is a favorite with pasta and pizza being the most popular. This affinity is probably due to the similarities it shares with Spanish food thanks to the Mediterranean diet. You will be hard pressed to find a Spanish household that doesn't have pasta or pizza (even if its frozen) for their meal at least once a week.
More recently, Asian restaurants have sprung up across Spain and, in particular, sushi restaurants. We are especially fascinated with Japanese cuisine and its different flavors and textures.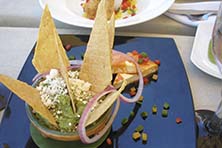 Spanish eaters are also crazy about Mexican food, especially those people looking for strong and spicy flavors. There are so many Mexican restaurants, especially in Madrid, that you will be surprised at their numbers.
For its simplicity, robustness and size we are big fans of American food. From fast food to 1950s themed restaurants, we can enjoy hot dogs, hamburgers French fries and freshly made onion rings bathed in ketchup. This is food for young and old alike!
Recently, we have discovered the cuisine from Argentina and Uruguay. With large, juicy steaks and roasts and creamy desserts you can't go wrong with an authentic churrasco. We go head over heels for los bifes, los chivitos and their excellent dulce de leche.
Today, fortunately, we can go out to eat in any large city and explore new experiences; where you can visit another country without ever leaving the ground. If you miss your country while traveling or want to experience something new, in Spain you can satisfy your gastronomic needs wherever you go.