Things to do in Buenos Aires
Our Latin American Spanish courses are an amazing experience in their own right, but what can you do in your down-time between classes? Our handy Buenos Aires attraction guide should help you plan your spare time with ease!
Architecture
Buenos Aires' architecture is truly unique, yet with characteristics that will make you feel as though you were strolling through Paris, Madrid or Barcelona.
San Telmo
San Telmo is the artsy bohemian part of Buenos Aires, where you'll find unique restaurants, Spanish-style architecture, antiques shops, tango locales and much more.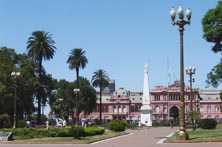 Plaza de Mayo
This public space, bordered by the emblematic Casa Rosada governmental building and the cathedral, has long been the centerpiece of Buenos Aires.
Cementerio de la Recoleta(The Recoleta Cemetery)
This cemetery reads like a who's who of Argentina's history. The 13-acre cemetery, with its incredible sculptures, is the final resting place of numerous presidents, military heroes, dictators, legends, rich and famous people, etc.
Museo Nacional de Bellas Artes(National Museum of Fine Arts)
Along with works by a wide range of national artists, in Buenos Aires' Museo Nacional de Bellas Artes you can view the works of such names as Renoir, Rembrandt, Van Gogh, Gauguin and Monet.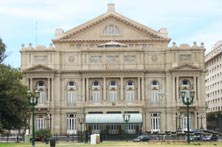 Teatro Colón(Colón Theatre)
Buenos Aires' beautiful Colon Theatre is one of the symbols of the city as well as one of the world's very best opera houses, a reputation it has held for over 100 years. The impressive edifice with its sumptuously decorated interior, is home to ballet, opera and clasical music performances. Even if you're not going to see a show, consider going on a guided tour of the theatre- you won't be disappointed.
More Argentina Travel Guides