All About Mendoza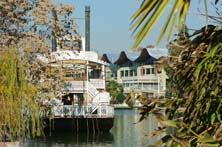 Located at the foot of the spectacular Andes mountains, Mendoza and its vast surroundings boast unlimited offerings. With a population of 120,000 inhabitants, Mendoza has an overall quiet and peaceful atmosphere that few large cities manage to achieve, making for an excellent place to learn Spanish in Latin America. Even in the center of the city, bustling with the commercial activity typical of any urban setting, you can easily find wide avenues, tree-lined plazas, and tranquil street cafés that maintain and enhance this highly enjoyable atmosphere.
Beyond the borders of the city, nature and adventure lovers will find themselves in a state of utter bliss as they try to take everything in. The area is known for its stunning landscapes, complete with soaring mountains, immense valleys, rivers, lakes, natural paths, vineyards and bodegas.
As you can imagine, Mendoza's setting allows the opportunity to get involved with an endless number of outdoor activities such as rafting, biking, hiking, water-skiing, windsurfing, kayaking. Plus, let's not forget that come winter-time the skiing is unbeatable at any of the nearby ski resorts.
Learn Spanish in Mendoza
Spanish School in Mendoza
Spanish Courses in Mendoza
Mendoza Accommodations
More Argentina Travel Guides