Learn Spanish in Buenos Aires
When you will come to our Spanish school in Buenos Aires, you will get into a georgeous building, specially designed for you to enjoy the best facilities that you need for your learning experience. You will feel just like home and you will be amazed at the wonderful fusion of modern decoration in a historic place. You will get the most of your stay in Argentina thanks to the expertise or our teaching team and a carefully prepared curriculum. And last, but not least, appart from improving your level of Spanish, you could attend one of our evening activities such as tango and immerse yourself in the country's culture.
Minimum age: 17 years old
Partner School
Location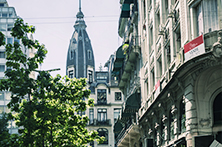 A few metres away from Plaza de Mayo, Casa Rosada and Puerto Madero with loads of bars and restaurants where you can savor the country's tipycal dishes.
Unbeatable transport conection with lines A, C, D and E a few steps away.
Easy access to main attractions and districts..
Facilities
12 classrooms
8 public PC Workstations with WiFi
Reception area
Theater room
Kitchen with microwave
A rooftop terrace of 100 m2
Library with books and DVDs
Teachers room
Free Wi-Fi
Public transport easily accesible
Great location in the city center