All About Buenos Aires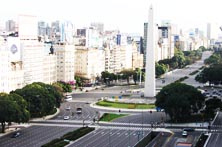 Visitors to Buenos Aires are always struck by the city's sophistication and European feel. A huge city of over 12 million inhabitants, it is arguably South America's most elegant and busy capital.
Buenos Aires represents the essence of Argentine culture, which is not surprising when you consider that 40% of the country's population lives within the city and its suburbs. At the same time, the cosmopolitan nature of the Buenos Aires is ever-present in its international citizens, modern architecture, local and ethnic restaurants, shopping districts, and attractive individuality of each neighborhood. If you look beyond the daily hustle and bustle, you will also find that traditions are preserved around every corner. Tango spirit and expressivity pervade the city's parks, plazas and halls, exposing the passionate side of this unique society.
Sophisticated and modern yet traditional and charming, this not-quite-European yet not-quite-Latin city captures the hearts of its visitors. So what are you waiting for? Make plans to visit Buenos Aires to learn Spanish and discover all that this fascinating Argentinean city has to offer.
More Argentina Travel Guides