Bariloche Guide Introduction
Situated in the awe-inspiring southern Argentinean side of Patagonia, Bariloche is a small but important city with a population of approximately 100,000 inhabitants.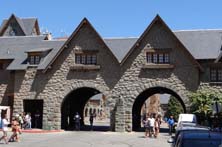 Bariloche itself is a picturesque Swiss-style city of stone-and-wood buildings, chocolate shops and atmospheric bars. The real attraction of Bariloche, however, is without a doubt its unspoiled natural setting. Set upon the banks of the Andes' stunning Nahuel Huapi lake, the city is nestled amongst glaciers and snow-capped mountains, crystalline lakes and rivers, pine forests and abundant wildlife.
As you can well imagine, there's no lack of opportunity to enjoy the great outdoors surrounding Bariloche. It's one of Argentina's main outdoor recreational areas, and for good reason; the pristine natural surroundings provide ideal conditions for more outdoor activities than you can even imagine, including skiing, rafting, rappelling, fishing, birding, trekking, biking, diving, and more.
Learn Spanish in Bariloche
Spanish School in Bariloche
Spanish Courses in Bariloche
Bariloche Accommodations
More Argentina Travel Guides