Visit Buenos Aires During...
Spring & Autumn
Spring (September-November) and Autumn (March-May) are the ideal times for a visit to Buenos Aires. During these months the weather is warm and sunny and you won't have to deal with the scorching hot temperatures of the summer (December-February) nor the chilly and damp weather of the winter (June- August).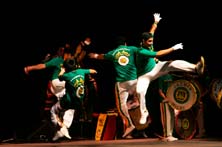 Carnaval de Buenos AiresBuenos Aires Carnival
Held just prior to the onset of Lent, usually at the end of February, Buenos Aires' annual two-day Carnaval celebrations include murga (musical theatre) groups, lively parades, colorful costumes, all sorts of entertainment and water balloons.
More Argentina Travel Guides