The Buenos Aires Experience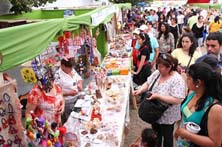 Poke around the markets
Buenos Aires has all sorts of markets where you can buy some of the best handmade crafts, often times directly from the artists themselves.
The most popular one is the Feria Artesanal (address: Plaza Intendente Alvear), though other good ones are the Feria Plaza Serrano (address: Plaza Serrano), the Feria de San Telmo (address: Plaza Dorrego) and the Feria de Mataderos (address: Av. Lisandro de la Torre).
Go to a football game
In Argentina, football is a national obsession and, with a whopping 24 professional teams, Buenos Aires has more football teams than any other city in the world. The Boca Juniors and River Plate teams have the biggest following, and if your trip to Buenos Aires happens to coincide with a match between the two then definitely try to see it!
Eat!
Argentineans celebrate eating and meals can often stretch on for hours. The country is famous for its absolutely delicious barbecued meats, which is practically an art form. There is no shortage of fantastic places to try them in Buenos Aires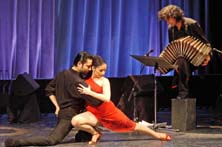 Feel the passion
No trip to Buenos Aires is complete without some sort of Tango experience. This national Argentine dance was actually born in the Buenos Aires suburbs, making the city the place to see it. There are locales throughout the city where you can watch this sensual art at its very best.
Enjoy the artwork
Buenos Aires is packed with museums and art galleries featuring a range of local and international artists. Take a peek in at least a few!
More Argentina Travel Guides