Spanish Courses in Buenos Aires, Argentina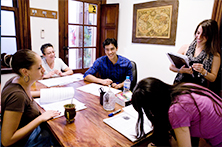 There are a huge number of choices available in this vibrant city, the beating heart of Argentina, one of the most amazing places to learn Spanish in Latin America. One of the most popular Spanish courses in Buenos Aires is the intensive group course, our standard program that is suitable for learners of all types and ages from eighteen to one hundred and eighteen. In addition to this, for those who want to learn just that much quicker, you can fit in the super intensive course – with ten extra lessons per week, this will really speed up the process.
The following Spanish courses are available in Buenos Aires. Click on the Spanish course you're interested in to see more details.
Spanish Courses in Buenos Aires, Argentina
Intensive Group Course (20 lessons per week)
Super Intensive Group Course (30 lessons per week)
Immersion Course (20 group + 5 private lessons per week)
Private Spanish Lessons (10 lessons per week)
Dele Course (20 group + 8 private lessons per week)
Spanish + Salsa (20 group Spanish + 8 salsa dance & culture lessons per week)
Spanish + Tango (20 group Spanish + 8 tango dance & culture lessons per week)
Internship/Volunteer Program
Of course we also offer our immersion courses and private Spanish lessons, which are normally offered at all of our biggest language schools. There are also some courses that you can try in Buenos Aires that are not offered everywhere else – one of the perks in staying in the centre of the tango world is the chance to get some lessons in this fantastic and passionate dance! Once you see tango dancers in action it is certainly hard to resist – the dances are so beautiful and elegant, and above all are a great deal of fun to learn. For a slightly different flavour you could also combine your Spanish lessons with salsa classes, which up the tempo a little and bring in a more energetic style than the passion of tango. These classes are both great options – and just think, with all that exercise that you will be doing you can afford to go all out on the traditional Argentine cuisine!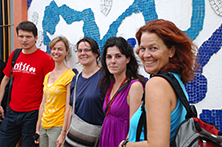 The language school in Buenos Aires also offers a volunteer program of eight weeks, in which you spend the first four learning and the last four doing volunteer work in your local community. This is a great way to give back to your area after they have helped you to learn so much – if you are at a loss as to what to do with your gap year, or simply have some time on your hands that could be put to good use, this is an excellent option and an amazing opportunity. It is an enjoyable and rewarding program, as you get to not only learn a language but also see the very real effects of your hard work on the community, enjoying the smiles and thanks of those that you help.
The Enforex school in Buenos Aires is located in the very centre of this great metropolis, so you will be close by many amenities with a lot of great things to see and do right outside your door. You can also get anywhere in the city easily by bus or metro.