Córdoba: An Introduction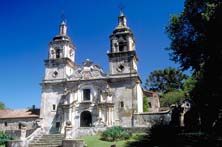 Córdoba, founded in 1573, is Argentina's second-largest city with a population of over 1,3 million. Known as the "colonial capital"– it is home to Argentina's first university and a number of churches and town halls from that era – Córdoba is located directly in the center of the country, making it a convenient starting point for traveling. It's just 100km (160 miles) from both the slopes of the Andes and the Pampas plains.
Although Buenos Aires has now surpassed Córdoba as the country's center of arts and academics, the city has grown significantly over the last decade. New industries and commercial ventures have led to modern buildings, shopping centers, hip neighborhoods, and a lively nightlife that are having a tremendous revitalizing effect on the city's infrastructure and citizens. In other words, right now is the perfect time to learn the Spanish language in Córdoba while you live here and witness these exciting changes as they develop!
Córdoba provides the ideal setting for living and breathing Spanish on a daily basis: a serene landscape of rivers, lakes and valleys, mild temperatures, few tourists, beautiful historic buildings, a prestigious university and a vibrant social scene… Could you ask for a better place to learn Spanish in Latin America?
More Argentina Travel Guides