Accommodations in Buenos Aires
There are two types of accommodation which you can opt for when you are studying at our Spanish language school in Buenos Aires, each of which has various options for you to explore in order to personalise the experience to just the way that you need it to be:
Host Families (single or double room, half board or bed & breakfast)
Student Residences (single or double room, no meals)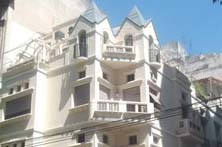 Living with a local host family made up of native speakers is a unique opportunity to get an inside perspective on Argentine life, cuisine and culture. Families may be traditional and non traditional in their formats; either way, you are guaranteed a warm environment where Argentine Spanish is spoken one hundred per cent of the time so that you can always practice. You will get to know the authentic culture of the country and learn Spanish through daily interaction with your host family members every single day during your stay. All families are carefully selected by our staff and regulated to ensure that you get the best experience possible. Most importantly, you will just be one more member of the family, so they will welcome you with open arms and make you feel right at home from the very beginning – and if you have any questions or worries once you have moved in with them, you can talk to our advisors at any time to resolve them and get a solution which suits you right down to the ground.
If you choose to stay in a student residence hall in Buenos Aires for your course instead, you will share your Argentine experience having the chance to meet local and international students who are staying in the same hall. You will leave with having gained a more open mind to the language and culture of Argentina, enriched by all your new international friends who you may wish to stay in contact with and meet up with again later on. Here in Buenos Aires, you will enjoy a greater degree of independence and cook your own meals, or go out to visit local restaurants if you prefer in order to get a real taste of the traditional cuisine. If you would like to discover new cultures and faces from around the world, making friends in a mixed environment, then this is your best bet! It is certainly something that is suited to those who are currently studying at home or have studied before, as it will be similar to other student experiences that they may have had. The choice is yours, as you are the one who certainly knows which would suit you the best – and this is all about making sure that you are comfortable enough to really fully enjoy your experience for as long as it lasts. When you get to the end of your course, staying in a better environment will have given you the chance to get a better grasp on your learning too.