Madrid Attractions & Highlights
El Paseo del Arte & El Retiro
Madrid's "big three" museums - the Prado, the Reina Sofia and the Thyssen - all lie on the same boulevard known as "Paseo del Arte." Together they hold some of El Greco, Goya, Velazquez, Picasso, Dalí and Miró's greatest works, not to mention a slew of international masters. Ascend the hill just behind the Prado Museum to discover Madrid's main park, "El Retiro."
Real Madrid
While Spain is packed with football fanatics, not all of them are lucky enough to have the so-called "Best Football Team of the 20th Century" as their home team. Real Madrid is one of the only - if not the only - football teams to have won every major national and international title at least once.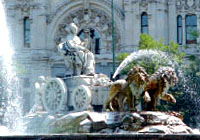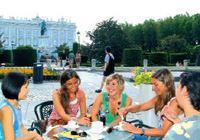 Sol & Los Austrias
Puerta del Sol, Madrid's ground zero, is the city's bustling meeting place par excellence. Radiating off of Sol you can wander through Hapsburg Madrid, "Los Austrias," which encompasses the Royal Palace, Plaza Mayor, old churches and beautiful squares with outdoor cafes and tapas bars.
Nightlife!
Madrid is capital in many respects, but above all for its nightlife. Nocturnal trysts roar throughout the city on weekends, but you can find a hopping party on any weeknight as well. A true night of going out ("salir") lasts until 6am at the earliest. Even though New York holds the title, we'd wager that Madrid is truly the city that never sleeps.
"Terrazas"
As soon as the winter chill starts to give way to signs of spring, madrileños come out in droves to enjoy the nice weather. Bars, restaurants and cafés throughout the city set out tables and chairs outside on the sidewalks and in the plazas. These "terrazas" are usually packed, so keep your eyes open for a table! After all, when you learn Spanish in Madrid relaxation is important, so what better way to enjoy the weather than by accompanying it with friendsover coffee, a pitcher of sangría or a spread of tapas.