The Madrid Experience
Bar-hop for tapas
Few things can be considered as typically Spanish as tapas. While Spanish tapas bars and restaurants are popping up around the world due to their popularity, Spain is the place to be for the real thing. It's a great way to try out Spanish dishes and, thanks to the cheap prices and small portions, you can either treat your palate to a wide range of tapas at one place or bar-hop your way around the city trying each locale's specialty. Plus, as the centrally located Spanish capital, you can try tasty treats from all over the country- Basque Country, Galicia, Andalucía, Cataluña and more!
Spend a night on the town
Madrid, truly a city that never sleeps, easily boasts the craziest nightlife in Spain- if not in all of Europe! A typical night out may start with some laid-back tapas before moving on to bars and wrapping up in one of Madrid's bumping discotecas. Don't expect to hit the hay until at least 6am!
Sunday morning at El Rastro
On Sundays and holidays, the area between Plaza Tirso de Molina and Glorieta de Embajadores holds the country's most famous open-air market. Different streets hold different treasures, knick-knacks and junk, from antique furniture to cheesy t-shirts. It's always packed, and afterwards the area fills with madrileños enjoying their last beers and tapas before returning to work on Monday. If you decide to study Spanish in Madrid, go to the Rastro at least once... you won't be disappointed!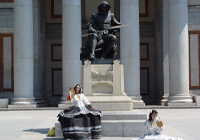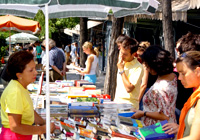 Go to a fútbol game
Any Spanish city is a football lover's paradise, but Madrid has not one but two major football teams competing in Spain's top division. The "Best Club of the 20th Century", Real Madrid, claims the most fans, the biggest stadium and the world's best players, but the Atlético Madrid is a force in its own right. On game nights, thousands of fans pack into the teams' respective stadiums and practically every bar in Madrid is filled to capacity with aficionados.
Experience a bullfight
While not necessarily the best option for weak stomachs, bullfighting is one of those ritual-laden and quintessential aspects of Spanish culture that you should experience at least once. Madrid's bullring - Las Ventas - has a capacity for just under 25,000 spectators and is the most important venue in Spain, constantly hosting the country's most prolific bullfighters.
Churros at San Ginés
Churros - slightly crunchy, deep-fried dough - are a beloved Spanish breakfast staple... and a great snack for late night partiers on their way home after a night out on the town. These delicious treats are typically eaten with and dunked in a mug of thick hot chocolate, and the Chocolatería San Ginés, serving up this delicious combo since 1890, is THE place to go. Address: Pasadizo San Ginés, 5 (off of Calle Mayor)
See a show
Between the massive opera house, the major theaters flanking the Gran Vía, top-notch flamenco locales and numerous other venues dispersed throughout the city, your options for seeing a show are endless. There's always something on, whether you're in the mood for the opera, a fun musical, a classic play, a dance performance and more.
Rent a rowboat in El Retiro park
A bit touristy? Yes. Worth it? Absolutely! After a walk through Madrid's sprawling El Retiro park, rent a rowboat and join the ducks out on the man-made lake with a couple friends. It's a great way to kick back, people-watch and soak up some sun!