Accommodations in Madrid
The city of Madrid is not only a world class tourist destination; it is also a bustling student city, full of students from all around Spain and indeed the world who have come to study at the university here or one of the other learning centres which can be found in the city such as our language school. Thus, there are a lot of different types of accommodation on offer ranging from basic to luxury depending on your personal preference - so you can spend a comfortable stay in our city no matter what your budget is! This should really help you to find something that suits your requirements, and it will also mean that you can do things much easier as we will book all of the details in for you.
You can stay with a host family and learn about the Spanish culture, a student residence or dorm with other people from the school, a shared apartment where you will have more freedom to come and go as you please, or a private apartment where you will be totally self contained. The host family option is great for younger students or those who want to experience life in Madrid first hand just as the locals know it, as you will be able to eat traditional home cooked food and take part in home customs and rituals which are part of the daily life for people all over Spain. All of the host families are very carefully chosen to ensure that you will be afforded a great welcome when you arrive and made to feel at home, as well as being able to practice your language skills whenever you are at the house.
A student residence is a great option for those who have lived in student halls before or would like to have the experience, as the atmosphere can be fantastic as well as allowing you to really let your hair down during your stay – and if you cannot access the holiday part of this experience while you are on your course, then you are only getting half of the benefits! You can really expect to have a great time with the other students if you are able to socialize with them and go out on the town, as well as being able to study after classes in an environment where everyone wants to learn. As the capital of Spain, you can be confident that no matter which option you choose you are going to be able to find a lot of native speakers around on the streets when you want to talk to someone to practice your language – and what is more, Madrid is a real melting pot for people from all over Spain, so you can find out about all of the different types of customs and traditions which make up the Spanish culture in different parts of the country too.
The following Enforex accommodation options are available for our students in Madrid:
Accommodations in Madrid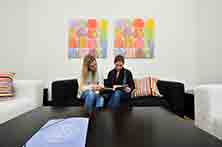 The Dorm
Private Apartments
Accommodation Prices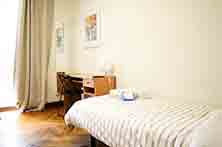 The Dorm Prices
Private Apartment Prices