Learn Spanish With the Power of Participation
Madrid stands out as the true capital of Spain. There is movement and culture to experience every minute of every day (or night) and you will find something exciting to do or see whether you are looking for it or not. But the best way to delve deep into the city and experience it to the fullest is to learn Spanish! Check out the Spanish courses we offer in Madrid, and immerse yourself in Spanish and in Spain! Find the course that makes you excited to master the Spanish language!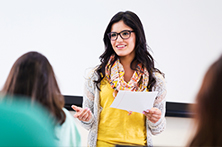 Enforex offers a wide variety of excellent Spanish courses in Madrid with experienced teachers and small class sizes that ensure student participation. In addition to the best comprehensive intensive Spanish courses, you can also add private lessons, personalized classes, cultural activities and excursions, or specific courses to help you prepare for official Spanish exams. Do an internship in your field of interest and give your résumé a boost, or let us help plan your gap year abroad. Whatever you are looking for in a Spanish course, you are sure to find it here!
Our Intensive courses are the most flexible and versatile Spanish courses available! These Spanish classes are designed for students who wish to gain fluency in Spanish and use the language in everyday situations. Take it easy with Intensive 10 or 20 for fewer hours of classtime per week, or give it your all and choose Intensive 25 (20 Spanish lessons plus 5 culture and conversation workshops per week) or Super Intensive 30 (add 5 semi-private classes per week). We also recommend adding specialized classes to an Intensive course to help take your Spanish to the next level quickly!
There is nothing better than learning a language by living the experience. That's why we offer specialized courses so that you can learn our culture and language with your friends or family, go at your own pace with private Spanish classes, have an unforgettable gap year, or spend your Winter Break abroad.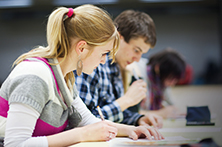 Let Enforex make acing your official Spanish exam that much easier! Certifying your official Spanish level is valuable for both your academic and professional future. At Enforex Madrid, our expert teachers will help you earn a great score on the DELE exam or SIELE exam, or focus on business Spanish and prepare for the Chamber of Commerce exam!
Kids and teens can take full advantage of their rapidly growing minds by picking up Spanish in Madrid with Enforex. We have summer immersion programs for children aged 5-18 and a junior program exclusively for teens 14-18 (cultural activities and excursions included!). Learning Spanish abroad is a great way for young students to learn through experience, meet new friends from all over the world, and have a great time!
Junior Spanish Courses
Exam Preparation Courses
Business Spanish and Madrid Chamber of Commerce Exam Preparation
Learn more and register for a course with no commitment
20 types of Spanish programs for all ages, with accommodation & excellent services.
---