The Tenerife Experience
Try out the mojo
Without a doubt, one of the most essential parts of Canarian cuisine is "mojo", and every person, family, bar and restaurant has their own special mojo recipe. If you're wondering just how good these sauces are, let's just put it this way: they have entire songs dedicated to them. These sauces are typically green, orange or red, depending on the intended "spicy factor" and the concoction of spices and herbs, and give a local flavor to meats, fish, potatoes and more.
Enjoy the great outdoors
With a nickname like "the island of eternal spring", Tenerife is a place where you can and should be outside as much as possible! The island's beaches, ranging from the volcanic black-sand coves of the north to the golden stretches of the south, are spectacular settings for sunbathing and watersports, and inland you'll find myriad natural wonders. El Teide, a dormant volano and Spain's highest peak, is one such wonder. El Teide National Park encompasses enormous volcanic craters, fantastically abundant wildflowers, free guided hikes and more.
Get a bird's eye view
Speaking of El Teide, if you want the great views but could go without the hours of hiking and sore legs, just hop on the teleférico - or cablecar - right up to the peak... Well, almost the peak. Make your way to the La Rambleta viewpoint, where you can climb aboard and in a mere eight to ten minutes be atop Spain's highest peak.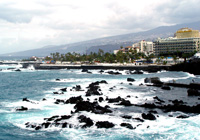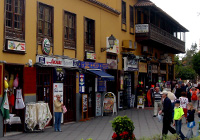 Go whale watching
Believe it or not, Tenerife is actually the second most popular spot in the entire world for whale watching... So don't pass up this fantastic opportunity to see earth's gentle giants at play! 25 of the world's 78 species of sea mammals - including blue whales and dolphins - make their home off Tenerife's shores, but the real highlight is the colony of over 550 pilot whales!
Island hop
Tenerife is only one of several islands that make up the Canary Islands. Constant ferries and inter-island flights link together the archipielago's seven islands, meaning that you can easily see and experience all that La Gomera, Gran Canaria, La Palma, Lanzarote, Fuerteventura and El Hierro have to offer!