Learn Spanish and broaden your horizons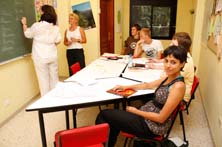 We know you will learn so much just from being on this magical island, but to make the most of your time check out our Spanish courses in Tenerife. At Enforex you will find the best programs with the most options and highly qualified teachers with excellent training.
We offer everything you could want, from small group classes to private lessons tailored to your individual needs or official exams preparation. Join us for a unique experience and plan your gap year with us. Regardless of what you choose, you will have the time of your life.
We know you are coming to Tenerife to enjoy a new destination, which is why we designed our fun and engaging intensive Spanish courses! These popular courses are interesting, entertaining and very effective in taking your Spanish to the next level. Choose our Intensive course for 20 hours per week, or add several culture and conversation classes to get you speaking Spanish fluently with confidence.
There is no destination as special as Tenerife or courses as special as ours! Take a look at our specialized courses for a Spanish learning program that suits your needs and helps you accomplish your goals. We offer more courses than ever, from Gap Years to Customized Group Programs, Spanish for seniors, and so much more!
Join us in Tenerife for an official exam preparation course and earn your best score on either the DELE or SIELE exams. Both exams are internationally recognized and will give you an advantage academically and professionally. Don't wait any longer, sign up today and choose how many lessons you need to ace the test!
Please consult the pages listed below for more program information and details about our Spanish courses in Tenerife.
Official Exam Preparation Courses
---
Learn more and register for a course with no commitment
20 types of Spanish programs for all ages, with accommodation & excellent services.
---