Cultural Activities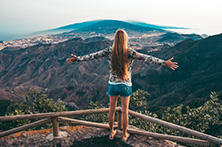 The Tenerife Spanish school organizes weekly afternoon and evening activities designed for you to better understand Canary and Spanish culture. Plus, it's a great setting to get to know your fellow international schoolmates! Some typically scheduled activities are:
Salsa dance classes
Spanish movie projections
Culture classes on a variety of topics: Spanish youth, Spanish wine, literature, art...
Weekend Excursions
Tenerife is a lush island full of incredible natural sights, from mountains to volcanoes, wildlife reserves, beaches and lakes. We'll help you discover the real Tenerife on weekend trips like these:
Teide: The famous mountain of Tenerife (one or two days)
A day in the countryside: barbecue
La Gomera: a small island near Tenerife (two days)
La Caldera – La Orotava (Villages)
Masca (Village in the mountains)
Anaga – los carboneras (trekking in the mountains)
La Laguna (former capital of Tenerife) – Cruz del Carmen (bathing resort)
Santa Cruz de Tenerife
Safari
You can experience these amazing activities and much more when you book a Spanish course in Spain via the Enforex website!