Accommodations in Tenerife
Studying Spanish in Tenerife is a chance for you to discover a completely different side of Spain to that which you may have seen before. Can you imagine what it would be like to study on this Atlantic gem of an island with a nearly tropical climate? Enforex can make this dream a reality with our three different and very attractive housing options, which allow you to enjoy both a holiday and a great learning experience at the same time. Once you have studied in an environment like this, you will wonder why all schools cannot be the same!
We offer home stay accommodation, living with a local host family, which will give you the chance to experience life in a typical Spanish household on the island. This can really give you an idea of what daily life is like in the Canary Islands as well as finding out about the traditions and customs which drive Spanish people in the way that they go about work and home life, including the traditional food which you will be served so that you do not have to go out and get your own meals every day. This will also give you a great environment in which to practice what you have learned in class, too, as you will be able to communicate with the other members of your host family and any other students who may be staying with them at the same time.
Alternatively we offer a fully equipped shared apartment with other students of the school if you are looking for a touch more independence, which will allow you to come and go as you please as well as helping you to meet other students with whom you can practice your language skills or go out and explore the area as much as you like. It is always great to be able to discover a new place with friends, but discovering new friends in a new place can in some cases be even better! Make sure that you are able to feel comfortable while living with others, as you will share some common areas such as the kitchen (allowing you to make your own meals and cut down on costs if this is an important factor for you).
The other option which we have on offer is a private studio apartment for complete comfort, which is often preferred by those who like to have their own space and are not used to living with others at all or do not want to live with strangers. This can be ideal as it gives you a place to retreat to in order to undertake some private and quiet study, which may help you to focus more on your lessons and to take more away with you by the end of your course. On the other hand, if you feel as though you might end up being a bit lonely, then living with others is probably the best option for you.
Accommodations in Tenerife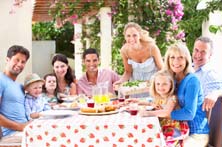 Accommodation Prices