Tenerife Attractions & Highlights
Our Spanish courses in tenerife offer more than just books and learning! Where else in the world can you study a language in complete paradise? Check out the attractions on offer in this beautiful Spanish city below:
Architecture
With airy balconies, intimate churches and pastel-colored façades, Canary Island architecture is undeniably charming. Many of Tenerife's towns and cities, like Puerto de la Cruz, La Orotava and La Laguna, boast impeccably preserved historical quarters where you'll quickly see that, while major European architectural trends - Renaissance, Baroque, etc. - did filter in, locals never gave up their own distinctly Canarian touches.
Lago Martiánez
Puerto de la Cruz may be best known for Lago Martiánez, conceived by native Canarian artist César Manrique as a coastal renovation project. It's a pristine complex of man-made seawater lakes, beautifully landscaped horticulture and buildings in the regional style, all designed in harmony with the island's natural environment. You can eat, drink, shop, party, sunbathe or relax all in its confines.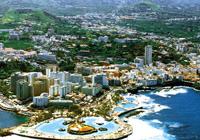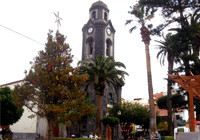 Mount Teide National Park
The often snow-capped peak of Mount Teide - Spain's highest mountain - is visible from practically everywhere on the island... even the beach! Along with the typical forests and hiking trails, the Mount Teide National Park has endless acres of unspoiled wilderness, funky rock formations, volcanic craters and all sorts of local flora and fauna.
Loro Parque
Loro Parque ("Parrot Park") is the Canaries' second most popular tourist attraction, and it's easy to see why. This complex of natural habitats houses over 300 species of parrots, 8 dolphins in a spectacular dolphinarium, 174 penguins in a special Antarctic habitat ("the largest refrigerator in the world"), 23 sealions who put on a dazzling show, gorillas, chimpanzees, tigers, jaguars, "reptiland," an orquidarium, a "Thai village" and 5 restaurants. Phew! You can also face sharks eye-to-eye in the aquarium's special tunnel designed specifically for human thrills.
Los Gigantes
Once you see them, you'll understand the name. Los Gigantes - "The Giants" - are basically a vertical wall shooting straight up out of the sea along the ruggest northwestern coast of Tenerife. The highest parts of Los Gigantes soar between 500 and 800 meters over the sea and make for some jaw-dropping, picture-worthy views. Long ago, writers like Homer and Virgil wrote that Tenerife was the end of the world; get one glimpse of Los Gigantes and you'll see why!