The Barcelona Experience
Eat!
Barcelona is the gastronomical capital of Spain, with delicious local fare and a huge offering of international restaurants. What's more, experts have donned native Ferran Adria the "world's best chef" for his experimental, deconstructive techniques. Those who choose to learn Spanish in Spain will know this is just one element of Barcelona's avant-garde reputation, renowned for its creativity and thriving cultural scene.
Hit the beach
In the ongoing debate over whether Barcelona or Madrid is the better city, Barcelona certainly gains a few points during the hot Spanish summers! Located on the shores of Spain's Mediterranean coastline, Barcelona has an impressive six beaches right in the city for swimming, sunning and relaxing. Platja de Sant Sebastiá and Platja de Barceloneta are the two beaches closest to the city center; so close, in fact, that you can go from bustling downtown to relaxed beach fun in mere minutes.
Spend a night on the town
Barcelona is an after dark playground offering nocturnal hotspots for all tastes and budgets. From swanky cocktail locales to cheap dive bars, lively Irish pubs and dance-til-you-drop discotecas, Barcelona has it all. Oh, and if you want to do like the locals, don't expect to get home until the sun comes up!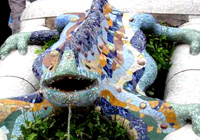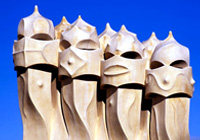 Go shopping
With avant-garde cuisine and funky Moderniste buildings, it's only fitting that stylish Barcelona has some of the best shopping in Europe. From national and international fashion mega-stores to one-of-a-kind boutiques, Barcelona offers endless opportunities to do some major damage to your credit card!
Join in the fútbol madness
Home to one of the best teams in the country – the FC Barcelona, or "El Barça"- Barcelona is a great place to be during football season. Pack into any of the infinite bars showing the game for cheers and beers, or join the masses at Camp Nou, the team's home stadium.
Crocodiles, gorillas and flamingos galore
Located in the lush Ciutadella Park, Barcelona's zoo is popular and fun way to spend a few hours with creatures from around the world. Plus, since it's located right in the center of the city, it's easy to get to and doesn't take up the whole day.
Go for a stroll
You're bound to do your fair share of walking in Barcelona, but it's far from a hassle. Barcelona's streets are brimming sights and energy. Our recommendation? A leisurely walk down the famous, palm-lined Las Ramblas. The vibrant avenue is a people-watching haven and runs down the Barcelona's Old Port, where you can easily keep walking while enjoying the seafront vibe.