Accommodations in Barcelona
The Enforex language school in Barcelona offers you different types of accommodation to choose from while you are studying with us: you could opt for staying with a host family, going into a student residence, taking a place in a shared apartment or dorm with other students, or having your own private apartment, so you can choose the option that best suits your needs from everything that we have on offer. We also have a range of different prices to suit all budgets so that you can get exactly what you need for your trip to Barcelona, one of the cultural centers of Spain.
If you are interested in practicing your Spanish speaking skills in an authentic environment with native speakers then the best accommodation choice for you is surely the host family option. This will allow you to stay with a local family who have been hand picked by our staff to ensure that they fit exactly with our requirements and yours, and who will welcome you into their home as if you are another member of the family. This will give you a first hand experience of life in Spain and the customs which are part of the culture, as well as the chance to eat traditional Spanish cuisine as part of the very important family meal times which are always shared by all of the residents in a house.
However, if you more enthused by the idea of meeting and getting to know people from diverse cultures, then you should opt for one of the student residences, as you will be living with a range of other students who are also interested in learning and languages. These housemates can become close friends during your stay, as they will be someone to talk to when you return back to your accommodation after lessons as well as someone to go out and explore the city with in the evenings or at weekends if you would like to do so. They will be someone to practice your language skills with too, and you may even end up with native speakers around you as there are Spaniards who take lessons in English or other languages with us too.
For those of you who value "me time" or get stressed out at the thought of a disorganized apartment then you would probably be happiest in a private flat. This is your own space which you can always return to when the lessons are finished for the day. It means that you have a quiet space to come back to and study when you wish to, and also that you will be able to spend time with others from your course too before returning home – you do not have to spend all of your time alone, because you will have plenty of chances to make new friends elsewhere! For some people, this could be the best of both worlds.
The following accommodations are available in Barcelona:
Accommodations in Barcelona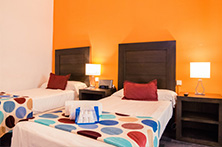 The Dorm
Private Apartment
Accommodation Prices