Barcelona Attractions & Highlights
Barri Gotic & Las Ramblas
The Barri Gòtic, Barcelona's enchanting medieval quarter, is bordered by Las Ramblas, Spain's most famous and bustling boulevard. One of the city's most sublime simple pleasures is to wander the narrow maze of streets off Las Ramblas, discovering myriad locales and historical curiosities.
Modernisme
At the turn of the 20th century, Barcelona experienced an economic and artistic boom. Catalan architects like Antoni Gaudí and Josep Puig i Caldafach created Art Nouveau masterpieces like the Palau de la Música Catalana, Parc Güell, La Pedrera and La Sagrada Familia, Gaudi's mind-blowing church. This special undulating, colorful style, Moderisme, pervades the Eixample district... right where you'll be studying Spanish!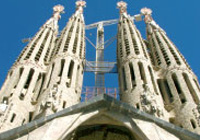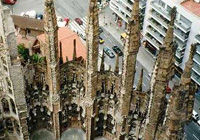 Museums
Featuring everything from the life and works of Pablo Picasso to the delicious world of chocolate, there are so many unique museums in Barcelona that you'll be hard-pressed to fit them all in! What better to help with your Spanish course than getting to see some first-hand history up close?
La Barceloneta & Port Vell
Barcelona's Port Vell (Old Port) has been revamped in recent years to hold a shopping complex, IMAX theater and aquarium. From there, you can stroll down the coastline to the city's liveliest beach, the Barceloneta, where beachside refreshment huts ("chiringuitos") abound.
Live Music
There is so much live music going on in Barcelona, it's hard to know where to begin! Local, national and international singers and groups are constantly coming into town with everything from classical and opera to jazz, rock, rumba, flamenco, hip hop and electronic. You name it and Barcelona's got a concert to fit the bill, not to mention the city is home to annual music mega-festivals like Sonar and Primavera Sound.