Valencia Attractions & Highlights
The City of Arts & Sciences
Santiago Calatrava, among the world's most sought-after architects, constructed this project for his hometown. It's a spectacular, hemispheric complex with a glimmering reflection pool. Don't miss the chance to see an outdoor concert here at night while the whole "city" is perfectly lit. There are 5 different sections: an arts pavillion, Europe's largest aquarium, an interactive science center, a planearium/ IMAX dome and a botanical garden.
Architecture
Valencia is easily one of Spain's most architecturally captivating cities. The combination of ancient city gates, Gothic castle-like silk exchanges, sumptuous Baroque palaces, funky Modernista marketplaces and more is sure to give your camera a work-out!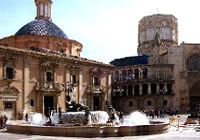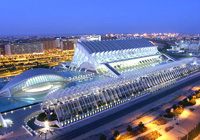 Barrio del Carmen
This neighborhood, the city's historic quarter, is made up of winding, maze-like streets perfect for exploring and strolling. Around here you'll find the sights typical to any ancient Spanish city: the cathedral, city hall, and numerous plazas now set up with outdoor cafes.
Formula 1 - European Grand Prix
Thanks to a country-wide surge in popularity, catching the races each Sunday all summer has rapidly become a national passion. Even more, Valencia has its own urban circuit, located around the America's Cup port, where the annual European Gran Prix makes Valencia's city streets roar to life. If you have some money to burn, go check it out live in action!
Food
Surrounded by a belt of Spain's most fertile land and located right on the shores of the Mediterranean, Valencia's healthy cuisine features delicious dishes and the freshest ingredients- seafood, fruits, vegetables, etc. Plus, one of Valencia's many claims to fame is paella, that Valencian-turned-Spanish-turned-international favorite, so it's definitely a must try!
If studying a foreign language is something of interest to you, be sure to check out our list of Spanish courses in Spain where you can learn in Alicante, Barcelona, Madrid, and more!