The Valencia Experience
Hit the beach
The sun, the sand, the sea… not surprisingly, one of Valencia's top features is its endless kilometers of shoreline. The most lively city beaches, Las Arenas and Malvarrosa, are connected by a busy boardwalk full of restaurants and cafes. If you prefer a more secluded experience, you can also hop on a bus to arrive at any number of local shores.
Eat, drink and be merry
Fresh-squeezed orange juice, tasty seafood platters, frothy horchata de chufas, steaming pans of paella… hungry yet? Whether your eatery of choice is a chill seaside beach bar, a lively tapas joint or an intimate restaurant tucked into Valencia's old quarter, in Valencia your palate is undoubtedly in for a treat.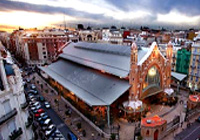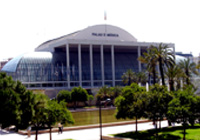 Take a walk
With mild year-round temperatures and a sure-to-shine sun, it's only natural that Valencia is loaded with lush parks, shaded gardens and seaside boardwalks. The boardwalk is great for rollerblading or a relaxed stroll along the beach, while the city's biggest park, the Jardín del Turia, is a 10-kilometer green space of flower-filled gardens, sports installations and paths ideal for walking or jogging.
Eat underwater
Europe's biggest aquarium, L'Oceanogràfic, gives you the opportunity to get up close and personal with belugas, sharks, penguins, tropical fish and all sorts of other critters of the deep. The numerous installations, located in Santiago Calatrava's sleek and ultra-modern City of Arts and Sciences, feature a truly spectacular dolphin show, two massive underwater tunnels and even an underwater restaurant!